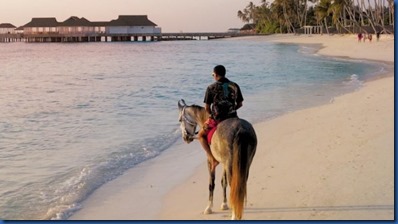 The big advantage to being big in the Maldives is that you can introduce a wider, and more creative range of activities. The newly launched Siyam World has not only introduced an exciting collection of features (many of which will be featured here on the "Best of the Maldives" in coming weeks), but perhaps the most ambitious is the introduction of a horse ranch:
"One of the Maldives' largest natural island resorts at 54 hectares – more than 25 percent larger than Aintree racecourse – Siyam World had ample space in which to purpose-build the new 15,000sqm ranch. With dedicated stabling and large fenced paddocks and fields, the fully-equipped ranch is now the proud home of four beautiful, rare breed Indian horses – meaning Siyam World guests can saddle up and start living the dream of galloping along the island's breath-taking beaches with the wind in their hair… Noor, a six-year-old full white mare; Jasmine, a six-year-old white and grey mare; Habibi, a five-year-old black stallion with white spots; and five-year-old full brown mare Kanbulo – meaning 'sweetheart' in Dhivehi – are all rare Marwari breed horses from the Jodhpur region of Rajasthan, India…The horses are happily settled at the Siyam World Horse Ranch, built specifically to ensure their safety and comfort. No expense has been spared in integrating them into island life, including stabling with stalls; feed and tack rooms; water troughs; dedicated storage areas for hay and bedding; abundant fenced paddocks and fields where the horses can gambol freely; and a full array of maintenance equipment. Experienced hostlers have been employed for each horse, overseen by a specially trained equestrian vet – permanently based on-island, and on call at all times. Regular checks by the Ministry of Fishery & Agriculture provide ongoing additional independent oversight of the animals' welfare."
Some folks have questioned whether horses are truly authentic to the Maldives. Well, the Maldives resort experience long ago stopped being purely indigenous with the introduction of the now ubiquitous water villas (concept imported from Bali). Since then, the Maldivians have crafted a range of updated interpretations of their marine wonderland and tropical paradise to appeal to a range of guests. The Maldives is big enough (with 1900 islands) to accommodate a range of tastes and preferences for different fun-in-the-sun holidays.
A few have raised concern over the welfare of the horses. Some tourism horses riding (eg. notably the city horse-drawn carriages) are indeed often mistreated, but actually part of the inspiration for the offering is Mr. Siyam's personal affection for horses so he has kitted out facilities for them as top standard as the resort overall. Someone raised a concern over having horses in such a hot climate without appreciating that many breeds are indigenous to hot, sandy areas. Most famously the Arabian horse. The resort has selected breeds who native to hot climates so they feel right at home in their surroundings.
And if you are speaking of iconic images, right up there would be riding a horse along the water's edge. So much so that it was the climax of the famous Old Spice "Smell Like a Man, Man" advertisement presenting a catalogue of romantic fantasy culminates with the protagonist on a horse on a tropical beach.
"I'm on a horse."