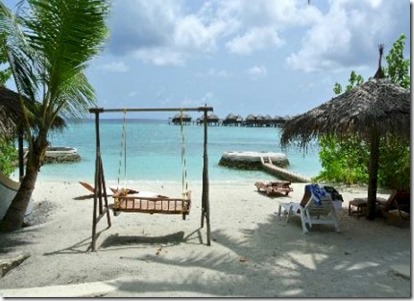 (picture courtesy of Rainbow Cheung)
Take me away…and everyone else too!
The utter seclusion of the remote Maldives resorts attracts a big group of the "get away from it all" crowd. Especially, getting away from the crowds. Also, for the big celebrity contingent, privacy is a big plus. And of course, romantic celebrations always place a premium on intimate seclusion. Dhonakulhi even names itself "Island Hideaway". For many, the treasure to be hidden is themselves.
Recognizing this appeal, many resorts offer pretty good degree of privacy. Maldives resorts are not packed holiday camps nor crowded beaches. And most resorts take measures to strengthen the privacy with various screens and foliage and private areas (Baros is especially effective at this). Many resorts have villas with large enclosed back areas where people can lounge in the sun or even swim in pools in complete isolation. Some even enclose their villa grounds with compound-like walls for complete shielding (eg. Four Seasons Landaa Giraavaru, Jumeirah Vittaveli)
Nika has made 'Privacy' the over-arching concept to the entire resort. That is all very well and good to assert, but how does one actually distinguish one's private paradise from so many other well secreted hide-aways? The villas are indeed well segregated with private paths to their front doors and dense foliage between plots.
The one distinction Nika offers is extending this "privacy" and delineated segregation all the way into the water. First of all this means that every villa beach is a private beach. On just about every other resort, you can make the villa itself as private as you like, but the beach itself is open area that any guest can stroll on.
How does Nika pull off this feat without having oppressive beach guards or unsightly warning signs? It exemplifies a principle that is the focus of my other big blog pursuit – embracing failure. Nika has taken what is a necessary downside to so many resorts – island preserving groynes – and turned them into an asset. Many feel that these man-made structures jutting out from the beach detract from the idyllic natural feel of an island. Some make efforts to minimise the impact. But Nika has actually embraced them and exploited them to create this distinctive feature of privacy. That is because each villa is planted directly between two groynes so they form a natural delineation into the water of the villa's beach AND swimming area. Taking an ocean dip does feel like you have you own like personal slice of paradise.
It's not going to be the best resort for people who like to walk around the circumfrance of an island. Of course, you can always swim/snorkel/boat around the periphery (so there is no guarantee that your sunbathing will be completely free from prying eyes or that you will never see another human being).