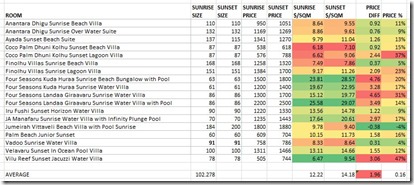 $200…Your own privately enjoyed sunset will cost you $200 (that's per sunset).
If there is one thing that rivals snorkelling as the "main event" in the Maldives, it is the sunsets. Time for bats to start stirring overhead, servers to bring out the pin coladas, and gadget guys to grab their SLRs and get as many additions to their Flickr account as they can manage (while their female companions "enjoy" the sunset alone with their cosmopolitans…and the bats).
Sunset facing rooms are so much more in demand than any other side that most resorts have now instigated entirely different room categories for westward facing villas. In fact, sometimes the designation is as simple as "Sunrise Beach Villa" and "Sunset Beach Villa".
So with Maldives Complete's uniquely comprehensive database of resort room types, we can filter out such room types at resorts that have explicitly differentiated between "Sunrise" and "Sunset" variants. Comparing just how much of a price differential there is, we can estimate 'how much does a sunset cost?'
In some cases a direct comparison is possible, but in others it is more complex. With the sunset side being more desirable, sometimes resorts have put more appealing larger rooms on that side. So at the very least, for an apples-to-apples comparison, I would need to do price-per square metre. Some resorts go so far as to significantly upgrade the sunset category so when I spotted that I removed them from the sample.
On average, a sunset costs about $200 per night. Now this total includes a range of resort from value 4-stars to some super-premium 5-star+ properties. I came up with 18 room comparisons in my sample. The specifics varies a fair amount…
Most Expensive Sunset ($) – Four Seasons Landaa Giraavaru,
Most Expensive Sunset ($/sqm) – Four Seasons Kuda Huraa, $4.76.
Most Expense Sunset (%) – Vilu Reef, +47%
Least Expensive Sunset ($) – Ayada, -$71 (but smaller room). Vadoo is the cheapest "same size" room at a $28 premium.
Least Expensive Sunset ($/sqm) – Jumeirah Vittaveli , -$0.38 (actually has a cheaper cost per square meter for their sunset room…the room costs more than the sunrise equivalent, but it is even bigger in size).
Least Expensive Sunset (%) – Jumeirah Vittaveli , -4%.
[NOTE – Prices indicated are based on research within the past year and represent the approximate cost for a Bed & Breakfast rate in US Dollars in mid-February. Prices do vary considerably with special offers, availability, etc]
The Maldives isn't the only place in the world where sunlight is valued. In fact, much of the Western world has contrived the system of "Day Light Savings" time (which takes place today in the UK and next week in the USA). Its name implies like it is some sort of very short-term solar layaway plan. Unfortunately, you just borrow one hour from the beginning of the day and have to pay it back later that same day.
The notion was devised to help the farmers maximise daylight that they worked the fields in the summer. Maldives resorts do the same thing. Basically trying to optimise the "main event" sunsets around mealtimes. "Resort time" is usually different to "Male time" (despite being on the same longitude) and some further random variations added on. So in the Maldives every day is "Day Light Savings" time. And maybe Maldives sunshine is a bit more precious so every second saved is a good thing. Still, it can be a bit confusing and even frustrating especially if you are island hoppers like us (and others it seems from the brilliant movie parody trailer below)…