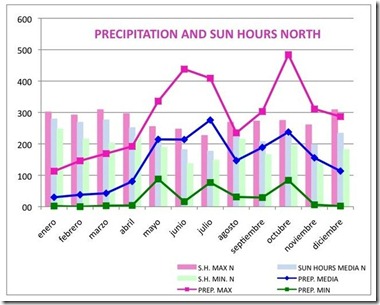 Today's Spring Solstice is a traditional turning point to the seasons marking the shift to warmer days in the Northern Hemisphere. In the equatorial Maldives, seasonal shifts are marked more by the change of prevailing winds (especially since the angle of inclination doesn't change much by definition at that latitude). These shifts typically happen in May and October. But, like this persistent UK winter which is bring us snow well into April it seems, 'your mileage may vary'.
One of my earliest and most frequented posts is 'Air and Water Temperature' which provides a month by month guide of key weather indicators (eg. inches of rainfall, hours of sunshine, air temperature, water temperature). But with the weather such a central part of the Maldives draw ("The Sunny Side of Life" tagline), prospective visitors get even more meticulous in their climatic research. While island by island stats are not available (some people do ask how the weather differs on one island compared to another one a few miles away), there are some web resources which can provide a bit more detail.
The Maldives official government weather website also goes down to the detail of 5 atolls (Weather.com has 4 but omits Hanimaadhoo) –
Male (Male atolls in center)

Kaadedhdhoo (Gaafu Dhaalun in far south)

Kadhdhoo (Thaa atoll in south)

Hanimaadhoo (Haa Dhaalu atoll in far north)

Gan (Laamu atoll in south)
Thanks to some diligent work by TripAdvisor contributor Maria Eugene, you can get precipitation stats by month for the North, Central and South regions of the Maldives. The biggest difference is looking at the 'rainy' seasons (the periods when the prevailing winds shift) which peak around June and November. The designation of 'rainy' season is purely relative as I have often explained. We have visited the Maldives in the peak of the 'rainy' season and still experienced more sunshine than we would see in an entire English summer (yes, faint praise I know). The key regional variations seem to be around these 'spikes' and the father north you get, the more statistical rainfall one seems to get (about 580mm in November at north compared to 400mm in south). Again, these are just averages and statistics and your mileage is likely to vary. Remember the gods of weather are mercurial croupiers with perverse and volatile senses of humour.