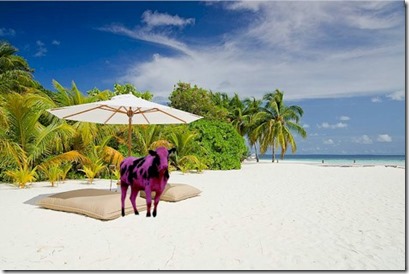 Seth-urday today.
Probably one of the more bizarre Best Of's I have come up with. The Best for Seth Godin.
Seth Godin is one of my favourite writers and one of the world's top marketing maven's. In many respects, his perspectives on marketing served to inspire much of Maldives Complete. He has written 11 books, a daily blog post and countless articles, presentations and 'projects'. Most of his work revolves around the notion of finding and embracing your 'raging fans' (aka 'tribes'). And while I have come upon passionate followings for a number of islands (Athuruga, Biyadhoo and Kuradu come to mind) none seem to be quite so fervid as Mirihi.
Furthermore, Mirihi operates and does a number of things straight from many a Godin books that reinforce and foster this fandom.
Purple Cows – The Maldives itself is a '

purple cow'

. Something truly 'remarkable' in all senses of the word especially in the 'remarks' that it inspires from people lucky enough to visit. In the 100+ strong herd of purple cows that is this archipelago paradise, it becomes a bold challenge to stand out even further. Mirihi has achieved it not with big, flashy 'wow' features (like underwater restaurants), but with a subtle combination of distinctive characteristics. It is more like a masterful blended whiskey capturing the 'spirit' of the Maldives than a single malt that stands out with a particular feature. Even Mirihi's tag line reflects this individualised distinction – 'Mirihi, a unique as you'. Though, I have to confess, it would have been fun if 'Moo-fushi' was my pick for 'best purple cow'.

Firing Customers – By obsessively catering to your raging fans, Godin talks about '

firing customers'

. It would seem anathema to some businesses to explicitly turn away any business, but the point is that trying to be all things to all people simply turns away even more implicitly. For example, Mirihi 'fires' people wedded to poolside entertainment or their fix of television by having neither pool nor TVs on the resort. It harkens to my common refrain to my most common question posed to me, "What is the best resort?" I always respond, "There is no 'best resort', just the 'best resort for you'." Mirihi doesn't try to be everything to everybody. It knows what it is and sticks true to that sense in both its operation and marketing.
Online – Godin is one of first and most prominent marketing authors to appreciate the power of the web for bringing together 'tribes' of enthusiastic customers. Not just bring the customers to the company, but bringing the customers together. For Mirihi aficionados, the place of congregation is the

Trip Advisor Maldives Forum

where Mirihi is often cited as a top choice among the aficionados.