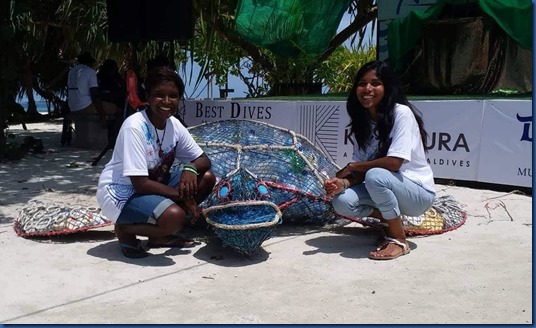 There are so many Maldivian women to celebrate during International Women's Week, that we had to feature to in one post. Kaia Mohamed Ali at Cocoa Island and Mariyam Thuhufa at Siyam World are two friends breaking glassfloors into the depths of marine biology in the Maldives. I had the chance to meet Kaia during my recent visit to Soneva Jani where she had previously been working and we shared all lively and insightful conversation about Laccadive life. She introduced me to her friend and colleague in the field, Mariyam, who at the time was working just a (long) stone's throw away at Siyam World. They both gave Maldives Complete exclusive interviews about their personal and professional journeys to the undersea world…
Kaia Mohamed Ali:
What atoll are you from?
I am from Kaafu atoll, from the capital city of Male'.
What age did you learn to swim?
I learnt to swim at the age of 4, but my parents would take me to dip in the sea when I was much younger. My parents felt it was important to teach me to be comfortable in the water since our country is surrounded by water.
What was your first snorkelling experience?
The first time I went snorkelling, I was 15 years old. I spent ages 7 through 14 living in Sri Lanka. After I returned to the Maldives, I went for my first snorkel with a friend on the house reef of Villimale'. It was a surreal experience as it was my first time seeing the reef with my own eyes – something I had previously only seen during the many hours I spent watching NatGeo and Animal Planet. Before my first snorkel, I always had a slight fear of the animals that lived in the ocean. I had only ever seen them from the surface or in the shallows. I was afraid of sharks, stingrays and moray eels and always felt I would get attacked. I guess the false portrayal of these movies played a role in my fear. After I started snorkelling and spending much time on the reef, I understood the behaviour of marine life. Nothing would hurt me as long as I knew how to behave in the water – No touching wildlife, no chasing wildlife, and no feeding wildlife. As long as you respected the animals', everything was fine.
What was your first diving experience?
My first diving experience was after I started doing my degree foundation in Marine Science. I was 16 years old. I signed up for my open water course and went on a dive to Male's reef. It was fun and less scary than I thought it would be. I enjoyed my experience. I noticed the difference between the coral life at the surface versus a few meters below. I knew at that moment that I would never stop diving. I did not notice the sewage pipes sticking out the reef on that same dive until it blasted the diver in front of me with sewage. Very disgusting. I never went diving on Male' reef again.
Where did you study marine biology?
I studied Marine Biology at the Maldives National University. I am currently working in COMO Cocoa island as a resident marine biologist. I built up my resume through volunteer work and eventually worked for a non-profit in sea turtle conservation. Many years of work experience prepared me for the role of Marine Biologist.
What did you do your final research paper on?
Please refer to the previous answer. Although I did not do my final research paper, I have contributed to and conducted my independent studies during my time working, such as an internal scientific paper on the Sediment Dynamics on Olhuveli Island.
What is your favourite sighting diving?
It's hard to pick a favourite when you're fascinated by everything underwater! But one that stands out/that I can think of at the top of my head is when I dove at a Manta point in Laamu Atoll. We saw a handful of mantas along with massive green turtles – two animals I love. There was so much going on I wasn't sure where to look. I equally enjoy the dives where I find the small stuff – the cute tiny shrimp and nudibranchs – they're harder to find, therefore more rewarding.
What is your favourite sighting snorkelling?
I think it would have to be the first time I ever saw a Whale shark. I took a trip to South Ari atoll to spend time with the Maldives Whale Shark Research Programme for my birthday. After two weeks of no whale shark sightings in Ari Atoll, we saw three on my birthday. It was the first time I'd seen any marine life that massive. I can't even describe the overwhelming feelings I felt. I definitely cried into my mask. A second favourite sighting was on a casual snorkel in Noonu atoll; I came across a lone eagle ray cruising by. As I dove down to take a closer look, he came up towards me, made direct eye contact and circled me. We spent a few seconds just swimming around each other before he finally swam off. It's just incredible to me that we can have such intimate interactions with wildlife.
How did you and Mariyam meet?
Thuhufa and I initially met while she worked for a sea turtle conservation NGO called Naifaru Juveniles in Lhaviyani Atoll. I was working for a different sea turtle conservation non-profit called the Olive Ridley Project. I participated in a Turtle festival by the Naifaru Juvenile when we first met. I noticed Thuhufa as there weren't many young locals working in conservation. It was nice to meet someone else with the same passions as me. We reconnected a few years later when we were enrolled for the same course in University. It was an instant connection – we became really close friends and we worked pretty closely during our time there.
What is the most prevalent misconception about the ocean and marine life that you find?
That sharks are dangerous and want to eat you. Despite their reputation – sharks are not dangerous and they don't want to eat you. They would much rather feed on fish and other mammals. Humans are not part of their natural diet and they rarely attack humans. You are more likely to die because of a cow than by sharks.
Mariyam Thuhufa (here is another fine profile on Mariyam)
What atoll are you from?
I am from R. Atoll Rasmaadhoo. A beautiful local island just north of Male'. The island is known for its Surf Spot and for the local boat buildings. It's a small island with a big sense of community still intact.
What age did you learn to swim?
I can't recall when exactly I learned how to swim. When I was living in my island I would have been around 6 or 7, I used to follow my cousins out to the water and we used to spend the day in the sea. I remember this one memory vividly. One day I followed my cousin brother to our islands famous surf spot. He went out on his board and I stayed near the beach. But at one point I wanted to get in to the water so I swam out. Next thing I know I was caught in the surf. I remember being under three consecutive waves and not being able to breath. I remember being terrified but I went back to the ocean the very next day. I guess, after that incident I unconsciously taught myself to swim, or at least how to not get caught in huge surfs.
What was your first snorkelling experience?
My first snorkeling experience was in the house reef of Villimale'. Villimale' is the closest island to Male' and was considered a picnic island back when I was a kid. I used to go there with my family on the weekends and started learning to snorkel during these trips. At first, I would stay in the shallow lagoon area and get excited whenever I see a lone fish passing by. One day I wandered off to the reef edge and it was the most beautiful sight I've ever seen. I saw lots of colorful corals and huge parrot fishes. This was way before the 2016 el Nino, so the reef was vibrant with healthy corals and lots of species of fish. It was an amazing experience.
What was your first diving experience?
My first diving experience was way back in 2014, when I was working at the Maldives Whale Submarine. How the submarine operated was that when the sub goes down with the passengers, scuba divers would go down with it and fool around with the fishes and eels and entertain the guests. I had always wanted to go dive with the scuba team. One day after much talking, one of the instructors from the team decided to take me for a discover scuba session. It was the most amazing day. I loved everything about my first dive. How the sun's rays looked under the surface to how the eels came and wrapped themselves around me so gently. I loved discovering the smallest invertebrates that day and playing around with an octopus while it changed colour frequently. It was a day I will never forget.
Where did you study marine biology?
I did my bachelors in Environmental Management at Maldives National University. Most of my knowledge about the marine environment I have gained from working and volunteering at different NGOs. I am currently working at the newly opened 5-star resort SIYAM WORLD as their Resident Marine Biologist. But before I landed this job, I've worked with Maldives Whale shark Research Program, Turtle Rehabilitation center in Naifaru Juvenile, IUCN and I've done coral and fisheries research at Maldives Marine Research Institute.
What did you do your final research paper on?
My Final Research Paper was on the 'Perception of Maldivian Grouper Fishers on the sustainability of the Current Practices and the Management Plan'. In my paper I did an in-depth analysis of the current practices of the grouper fishery industry of the Maldives and how effect the current management plan is on combating the unsustainable practices that has been going on in the industry. I also conducted a survey questionnaire to understand how well the fishers know about the management plan and tried to understand how their livelihood was being affected by the sustainability practices enforced in the management plan.
What is your favourite sighting diving?
It is so hard to pick one sight. But on the top of my head I think the best sight was when I was doing a fun dive at Vaavu Atoll a few years back and we came across a ball of trevallies. It was the most amazing thing. We went right inside the ball of fish so we were surrounded on all sides by them. This was something I've always wanted to experience and it was just so surreal. This was a dive I will never forget.
What is your favorite sighting snorkelling?
I think my favorite sight snorkeling would be anytime we get to interact with Mantas or Whlaesharks. Whalesharks specially are such gentle giants that we get to spend atleast 30 minutes with one and it just becomes such a meaningful experience because you get to learn so much about them during this interaction.
What is the most prevalent misconception about the ocean and marine life that you find?
There is a lot of them ranging from 'corals are plants' to 'all sharks are dangerous'. Amongst fishers that I have talked to there is also the general idea floating about that since the ocean is so big, we will never run out of fish. I think this is the biggest misconception that I find, especially in the Maldives where our livelihood and food resource is so directly connected to the fisheries industry of the country. Fisherman thinking sustainability during fishing practices is unnecessary because they don't believe in the declining fish stock populations while research clearly shows otherwise. This is why, currently there is a lot of effort put into conducting awareness sessions for the local fishers regarding issues like this.