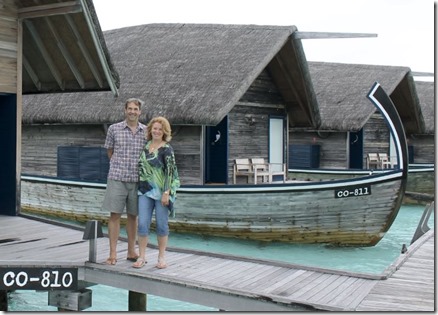 When is a resort not a resort?
Cocoa Island resort doesn't seem like a resort. No welcome sign. No adverts for activities. No bulletin boards.
The island doesn't seem like a resort island. It seems more like a sand bar with some palm trees on it. It has a very small operations hub in the centre of the island. Over half the staff don't live on the island but commute from the nearby neighbour. The much smaller resort infrastructure makes it seem more like a little, exclusive community of beach houses than a resort. The resort common area buildings feel more like the community's shared country club facilities.
For such a small island it has such a big feel. The interior of the island is very sparsely vegetated so it has vast expanses of sandy ground shade by a dense palm canopy overhead (see top two pictures below). The entire interior is clear sand. But it is the exterior that really hits you. There is almost more beach than island (see second from bottom photo). Only Anantara Kihavah compares for an expansive wrap-around coral white beach. Kihavah's is bigger because it is a bigger island, but Cocoa's is deeper. And if a circumambulation isn't enough, Cocoa is blessed with one of the longer sand spits in the Maldives that is actually up to 3 times longer than the island itself (see photo at bottom).
Cocoa is definitely one of the quietest islands around. The much smaller resort infrastructure means there is less activity buzz in the foreground and less support buzz in the background. At times, I almost felt that I ought to whisper so as not to break the silence.
The villas don't feel like a resort villas. They seem more like an elegant beach cottages. Many of the villas are constructed with lofts which segregate the sleeping area. The living area below seems like a proper lounge. The lofts also give the villas an airy spaciousness. The windows extend a towering 15 feet up, and they surround you as 3 of the 4 walls provide expensive views of the aquamarine seas.
I have anticipated seeing Cocoa Island for a few years now. One of the previous Ministers of Tourism recommended it to me as her favourite resort (she was a big fan of the Maldives Complete site). It also snared the TripAdvisor top resort spot in the Maldives a few years back. So expectations were dangerously high, and yet Cocoa managed exceeded them comfortably. If you have a spare million and are considering buying a beach house that you might only get to a few times a year, I recommend putting the money in a bank account and drawing off it visit Cocoa Island regularly instead for a homey experience in the middle of true paradise.