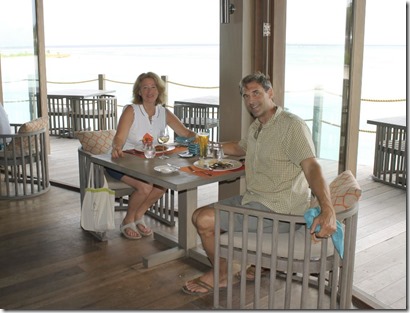 Forget all your preconceived notions about hyper-ebullient, non-stop entertainment and buzz of activity at Club Med resorts. Their Finolhu Villas marquee property in the Maldives couldn't be more contrary to that persona.
Instead of a whirlwind of activities, Finolhu Villas was tranquil and peaceful. There is no animation team pumping up the volume every night or leading the children in a pool frolic. In fact, no children under 12 years old are even allowed on the island, and only adults (over 18) are allowed in the water villas.
Instead of value priced villas typical of many Club Med resorts, Finolhu Villas is masterfully designed with artistically undulating curves (no not *that* kind of curves) most prominent in its distinctive roofs, but echoed as a motif throughout the resort. The resort features an array of modernist styling including its striking glass floor in its over water bar, and the grounds are meticulously landscaped like some tropical stately home.
Actually, "Villas" are a misnomer. They should be called "Finolhu Suites". All of them have living areas for lounging completely segregated on the opposite side of the bathroom characteristic of a suite. In fact, both rooms have their own large screen plasma television. I guess that is good if you can't agree on what to watch, but if that kind of argument is happening on your honeymoon, you might want to invest in some relationship counseling. 😉
Finolhu Villas is more than an upgrade from Club Med Kani. It is a whole new luxury concept.