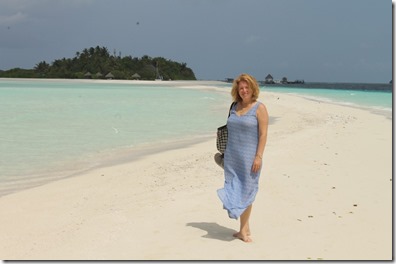 It's all about proportions. Fibonacci Sequence and the Golden Ratio are just two examples of proportions that drive our aesthetic appreciation. I've included ratios in the Maldives Complete database from the outset: Rooms-per-Hectare of island size, and Cost-per-Meter for room types. Visiting Cocoa Island this summer, two of the most striking features to it were about its proportions…
Sandbar-to-island ratio – It's distinctive sand spit is not only one of the Maldives resorts' longest at 1km (at ebb low tide), but with the only 350 metre island it makes it the highest ratio of sand spit to island quite easily.
Guests to Resident Staff ratio – Cocoa Island is one of the most tranquil resorts we have ever visited. It's not just that you don't see many guests…it's that you don't see many staff. Or much resort infrastructure. It really is like a deserted island. They have a miniscule 150 staff (plenty to keep the place running smoothly and all your needs catered to), but less than 60 live on the island itself. Most live on local island 5 mins away. As a result, the island doesn't have that buzz of activity with big staff quarters compound in the center of the island.