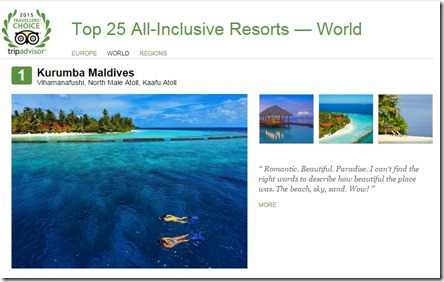 I told you so. 3 years ago, I awarded Kurumba the "Best of the Maldives for 5 Star Value". This week, the rest of the world agrees awarding the resort the Trip Advisor Traveller's Choice Award for Best All-Inclusive. Not just in the Maldives. IN THE WORLD.
The "All-Inclusive" category is all about value-conscious travelling. Many travellers push their budget to the absolute limit in order to afford a bucket-list trip-of-a-lifetime to the Maldives. They don't want to check-out and get hit with a bunch of unanticipated extra-charges. They want to relax and relaxation means peace of mind that they can do whatever the heck they want and not worry about it.
With the rise of the Maldives' worldwide profile in recent years, room rates have gone up and up. Many people are opting for a few of the budget options that are out there that still provide the enchanting Maldives experience, but do offer quite simple accommodation, food, décor and amenities. The charm of Kurumba is that it maintains true 5-star exquisite luxury standards in all parts of its operation…and still remains reasonably priced. No wonder so many people have returned from their stays there and raved out it in their TripAdvisor reviews.