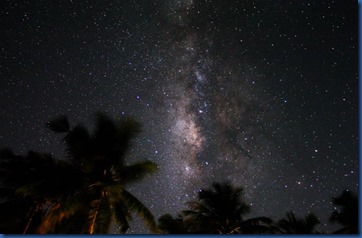 While the Black Moon might be the darkest month to the do some stargazing, where is the darkest place in the Maldives. Lots of factors affect visibility – light pollution from the moon, cloud/haze cover – but one of the biggest is light pollution from the ground. This light is what makes star gazing so difficult in built up areas and why the best observatories are located in the remote locations far from ambient light sources.
The question came up on the TripAdvisor Maldives Forum as few months ago. I pulled NASA's night time photos of the world. As expected, there are not many lights in the Indian Ocean. The high-res TIFF shows basically 3 tacked vertically north to south. The northern most (and by far the brightest) is Male, the middle is Gan and the southernmost is the British Indian Island Territory.
I was going to examine which parts of the Maldives were the furthest from Male (without getting close to Gan). I've overlaid Google Maps onto the NASA photo to provide some perspective –
But doing a bit of research on skyglow shows that it doesn't really extend beyond a few dozen miles from the major light. Check out the UK map on this site.
There is also the question of "glare" which is the light from the immediate vicinity. This light does add to the sky glow, but more importantly it adds "glare" to your viewing. So in short, you are looking for a resort who has relatively secluded villas (ie. away from the dense infrastructure of the resort operations and main public areas) and ideally one where the lighting is used sparsely.
A simpler resort like Rihiveli comes to mind (less infrastructure). A resort without water villas (at least on your side of the island) will eliminate the inevitable jetty and water villa lights (they don't want people stumbling into the water).
This methodology narrowed down the possibilities to a couple of possibilities in some more remote, less populated atolls…
Filitheyo, Faafu (distance to capital island – 20 km)
Alimatha/Dhiggiri, Felidhoo (distance to capital island – 12 km, lowest population atoll)
I decided to lean to Filitheyo because Alimatha and Dhiggiri, though smaller and simpler resorts, are both near each other throwing skyglow on each other, while Filitheyo is all by itself 20 km (about the right distance for avoiding skyglow) from the major island in the atoll.