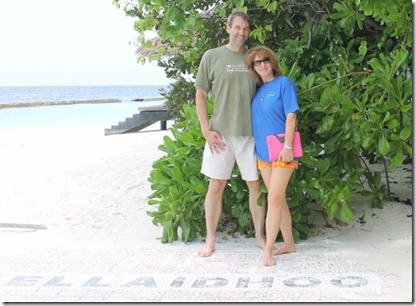 Chaaya Reef Ellaidhoo is like a 4 star Kurumba. Primarily because of it being a classic round Maldivian island shape surrounded by a ring of sea barriers. Some people are put off by the stone defences saying that they detract from the idyllic views over the ocean. But one dividend they provide is a safe haven of snorkelling for beginners and weak swimmers. It is the closest thing to an open water swimming pool. Yes, the sandy lagoon that are all over the Maldives also provide this sanctuary, but they also offer very limited things to see snorkelling. The sea defences themselves often provide a vibrant platform for all sorts of creatures. And the seas defences are positioned at the precipice of the house reef drop off, so the resort does offer that dramatic snorkelling for those who wish to venture out a bit more at some point.
But another reason for the comparison is its value for money. Kurumba is one of the best value-for-money 5 stars and I think Ellaidhoo might just be one of the best value-for-money 4 stars. Don't take my word for it. I got the notion from a real Maldivian expert and veteran. Known as "Turquoise 23", as she is known on the TripAdvisor Maldives Forum, we overlapped on our visits this trip and arranged to meet up during our stay (see photo below).
My tours are starting to become TripAdvisor Meetups. We swapped stories and perspectives from her 15 trips to the Maldives. She has run the gamut from Shangri-La Villigili to the now defunct Lohifushi. Ellaidhoo is the third resort that she has graced with a return visit. She explained her decision to me saying she had a really great time here on her last visit and doing her research this time around, it was the best value going.
During my short stay, I uncovered 5 distinctives to write out in the coming months.