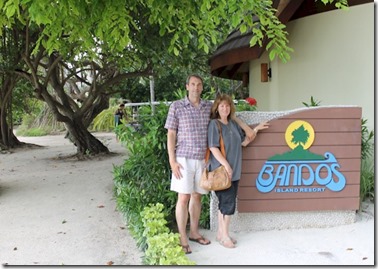 These tours of mine can throw you from one extreme to the other. From super-luxe (One & Only Reethi Rah) to budget (Bandos). From large (Reethi) to small (Bandos). From canoeing out to the house reef (Reethi) to just jumping in off the beach (Bandos)
The house reef is the main event at Bandos. It is the classic circular wrap-around which is always a favourite among Maldives aficionados. The Bandos one is distinguished by ledges. For starters, the far predominant coral are massive platters of Table Coral. Like giant dishes from some Neptunian Greek wedding. But it's not just the coral formations, but the reef formation itself that takes on this ledge structure. The best part of the north side of the reef was sharp overhangs. Probably best for a diver to see all the critters secreted underneath. I tried free diving down a few metres to take a peek, but the practice quickly wore me out.
Bandos is a Maldivian classic of a natural setting, attractive accommodation and a striking reef that is still affordable to mere mortals. Kuoni is adverting a week in Bandos at just over a thousand pounds which is a price point I thought has long gone extinct in this part of the world.