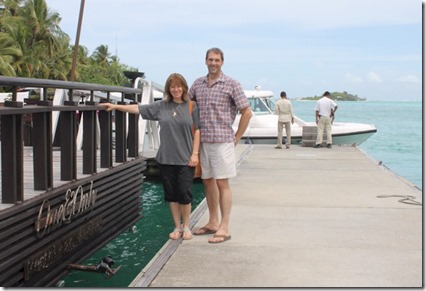 "I'd like to be under the sea, in an octopus' garden in the shade"
Possibly the theme song for One & Only Reethi Rah. Reethi is said to resemble an 'octopus' since its shoreline was crafted on the eight promontories. It is one of the all around top places for some 'under the sea' adventures' in the Maldives. Its lush 'gardens' provide plenty of shade from the bright sun. And it is certainly a place everyone would 'like to be'.
No surprise that the resort called "One & Only" would have many unique distinctions. In fact, we might have a new leader board topper with this visit's sweep. I've identified 47 potential 'Best of the Maldives' items which added to the 7 already posted makes a stonking 54 (the next highest is LUX Maldives with 35). It does make it easier to determine the best "One" of the Maldives, when the feature is the "Only" one of its kind in the Maldives. Some of the things I saw at Reethi were not just the first time I had seen them in the Maldives, but the first time I had seen them any where in my world travels. One note is that such range of luxury doesn't come cheap and the distinction-per-dollar might not be that far off other top flight resorts.
Curiously, Reethi Rah achieves its "wow" factor without any of the latest trendy features of the super-premium fashion stakes like underwater rooms and museum quality eco-centres. They don't even have glass floors. Reethi Rah is Maldives luxury done in classic style.