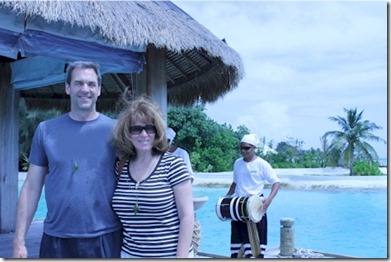 What a surprise!
Not the Jumeirah I expected. The Jumeirah marque is a bit of a pioneer in super-luxury properties, but the Vittaveli property has none of the glitter or glitz of its Dubai renown. Instead it has gone for a comprehensive embrace of all things Maldivian – ingredients, imagery, themes, inspiration. Dhoni inspired architecture. Local herb kulhlhafilaa leaves in dishes. Maldivian sauces with the grilled meat (milder than many Maldivian curries I have had). Instead of the opulence of Al Burj, it strives for the subtlety of a Maldivian fishing village.
Vittaveli's tag line is – "Effortless Maldivian Luxury". The description is as fitting as it is effective in capturing the relaxed ambience coupled with sumptuous quality in design and detail. The most modest villas are house sized with towering ceilings, wrap-around pools and expansive gardens securing complete privacy with walls and foliage. Suites that can be configured to include a nanny room for family entourages. More of a compound than villa.
Also, not the Bolifushi I remembered. This is now the third island have returned to (after Kurumba and Velassaru). On our very first trip to the Maldives at the then 'Laguna Beach' (now Velassaru) we popped over here to check out Boli's quality reef. Now the island has been extended to more than double its length with a big reclamation effort. The new part of the island doesn't feature as strong snorkelling nor the maturity of the palms and fruit trees (so fewer 'flying cat' bats). But all that will sort itself out with a bit more time and the more expansive scale provides a platform for Vittaveli's extensive services, activities and offerings not to mention its big villa 'compounds'.
Jumeirah Vittaveli earns big marks for understated elegance.