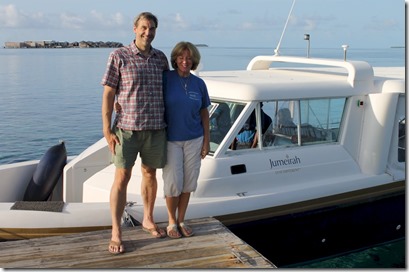 When I visited Jumeirah Vittaveli last year, we were discussing potential superlatives for the "Best of the Maldives" section. The marketing manager asserted that Jumeirah Dhevanafushi was the "Most Romantic" resort in the Maldives. It was not the first time I had heard such an overwhelmingly ambitious claim (eg. Velassaru, Baros). I asked what makes it so much better. Do the sunsets glow more, do the palms wave more languidly, are the ocean blues bluer? 'Best of the Maldives' is necessarily the definitive arbiter of such distinctions, but it does do its research and look to have something tangible to for a 'Best Of' post to hang its hat on.
The marketer didn't relent. She pointed to the biggest beds in the Maldives (okay, that is pretty cool and could contribute to some major romance not least of which is providing some acreage between a couple for snoring or tossing and turning). Then, she added that the island is shaped like a heart (well, maybe an anatomical heart, but not so much the iconic shape). I'm not convinced that it is THE most romantic resort in the Maldives (just like I don't think that there is a "Best Resort" in the Maldives), but it certainly puts forth a compelling case.
What I will concede after a couple of pretty astonishing days there is that Dhevanafushi is a place where fantasies come true. Again, that might sound like a bunch of review palaver, but hear me out. I have the evidence to prove my case…
Octopus – I have been looking for one on a house reef for 13 years. Ever since we saw one snorkeling on Coco Palm Dhuni Kholu house reef, I've dreamed of seeing another one of these intriguing but shy creatures who are the world champion hide-and-seek players. Like Babe Ruth's famous called shot, the staff pointed out the favourite hang-out of their house reef resident octoped and there he was when we went snorkeling (though we passed right by him the first time). Anyone who wants to spy one of these elusive creature curiosities, Dhevanafushi is the place to go.
Dolphins – Who doesn't have a dream to 'swim with dolphins? Not only did we see dolphins every day in Gaafu Alifu, but the dolphins swam by us during our dive from Dhevanafushi. Even the dive master was bowled over by how close they came.
Beach dinner – When we started coming to the Maldives, beach dining was an anomaly. People ate in established restaurants. We would ask if we could move our table onto the beach and the ever gracious Maldivians would always oblige. Dining with the sand in our toes, the stars above and the surf to our side is one of our biggest thrills. Dhevanafushi is one of the few resorts which features "in beach" dining. Not "on beach". But in beach. They literally dig your dining table and settee out of the sand. Fantastic.
Beds. The beds in Dhevanafushi are bigger than some bedrooms I have slept in. You could spend days and never leave the bed (that would contribute to a romantic vibe). During the day, reading and hanging out with Lori was like being in our own little bed fort. During the night, my 6'4" frame could stretch out to my heart's content.
Beach House. Lori especially has fantasized about owning a beach house. Why own a beach house when you can come to a place like this? The taxes, community charges, maintenance and utilities would be more than your stay here. While there were plenty of things on offer, the accommodation is so comfortable that you are happy just to hang out 'at home' in your villa, taking a dip in the pool or the ocean, lying in the sun, or doing totally nothing. For a couple of days, we felt we were living the dream of residing in our own little beach house.
Welcome to Fantasy Island.