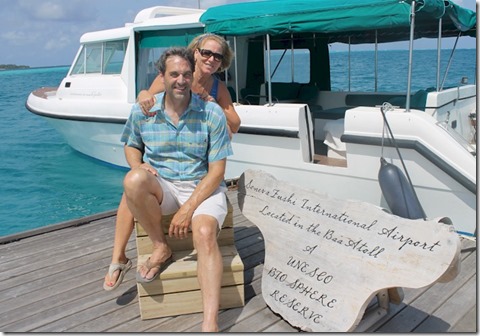 Soneva Fushi , a love story. The resort is a heartfelt expression of love for the Maldives by the founders and owners Eva and Sonu Shivdasani. The very name "Soneva" is like two sweethearts' names carved inside a heart, "Sonu + Eva". They spend the majority of their time living on the island themselves, in one of the more modest two-bedroom villas, despite owning a number of other exquisite properties.
Soneva has long been a trend setter, not a fad follower. No glass floors, no water villas, no pool. The artistry of the execution is led by the Creative Director Eva. They've created a funky barefoot chic vibe that is imbued into every nook and cranny.
Love for guests.  Soneva meticulously tailors that aesthetic to each guest. Everything on offer is an option customized to the individual. When you arrive at the airport lounge, the hostess has you try a number of salt salts and soaps so that your villa would be supplied with your favourite. One of my pet peeves of spa treatments is when they ask where you would like the therapist to focus and then the therapist does a fairly standard treatment. I told the therapist to focus on head, neck and legs…and that was the only areas he really ever touched. I've never had a massage therapist so meticulously follow my brief.  Usually buffets are an exercise in quantity and quality. Like its former sibling Gili Lankanfushi, Soneva's buffet food is near gourmet quality. Not just for a few items, but for most. For example, at their egg station they had prawns as an option for omelets. Now why don't all resorts have this luxury ingredient on their egg stations (and crab meat too, by the way)?
Love for the unconventional.  "Sea level" is one of the defining aspects of the Maldives. Nothing, not the landscape elevation nor the seascape depth deviates much from the horizon of the sea. Still, I quite welcome the few places which provide a more vertical perspective on this paradise. Sea plane rides, mocktails at Traders Hotel "high-rise" in Male, and the occasional two story structure on a resort. Well, the majority of structures on Soneva – The villas, the spa, the signature restaurant, the observatory – are two stories which lend a more three-dimensional contour to the island.
Love for the planet.  If Park Hyatt Hadahaa is eco-obsessed, Soneva is eco-maniacal. Their reclamation and recycling area covers nearly an acre. They also have a solar panel farm that provides 3% of their electricity with aspirations to build it to 50%.
The combination of a (a) environmental, (b) vertical, and (c) family focus (they are building one of the most stunning kids clubs in the Maldives) makes the entire experience feel like you are in a real life production of Swiss Family Robinson. If the Robinson family hadn't been rescued, but instead they stayed on their island and built it into a sustainable utopia. There are tree houses everywhere. Peg-in-hole door locks, coconut door closers, tree branch toilet roll holders. They should write a Buzzfeed article "27 Eco-Hacks for your Resort" (eg. use old jars with sand as table candle sconces). Gilligan's Island if everyone on the Minnow were Mr. and Mrs. Thurston Powell III.
As a General Manager myself, I am intrigued not just by environmentally friendly sustainability, but by business sustainability. So many resorts have come and gone over the years and yet Soneva Fushi goes from strength to strength. The key to their success here is reinvestment. They seem to constantly be refreshing and adding to every part of the island. The villas, the offerings, the décor, the supply chain, and most critically the staff.
Having written more about Soneva Fushi than any other resort that I hadn't yet visited and the resort commanding a high profile in lifestyle and travel press, I wondered what could be said that hasn't already been said? Yet, I came upon "Best of the Maldives" potentials as dense as its lush vegetation. I found 4 'Best of' subjects just in the Soneva airport lounge. As it turns out, over my short stay I uncovered 42 potential "Best of the Maldives" topics. Combined with the 22 already posted, Soneva Fushi tops the "Best of" league table with a stunning 64. But, it sort of seems like Soneva has an infinite supply of Best of the Maldives distinctions. Not only did I come across one every time I turned around, it's clear that the resort has a whole parade of innovations perpetually coming down the pike. Stay tuned.