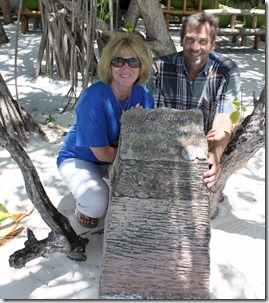 Budget Baa.
One of the stops I most anticipated was a visit to Royal Island. I knew very little about Ayada, but I knew nothing about Royal. Of all of the resorts I was visiting, it was the only resort that I hadn't written anything about. And yet, when I mentioned the island to Maldives experts, they would say "Oh yeah, fine island."
I must say, for everyone bemoaning the escalating prices of the Maldives 5-stars, this well-appointed 4-star property would tick all the basic boxes for a superb Maldives getaway. For rooms, it has smart décor with comfortable air conditioning and outdoor bathroom. For food, it serves fresh reef fish and dishes cooked with local curry recipes including tropical fruit and a range of options. For activities, it offers a stocked sports centre,. For snorkeling, it has an extensive, easily accessible house reef that wraps around the entire island. For diving, it hosts a centre run by Dutch group Delphis diving which is particularly professional and helpful. And this is all on offer for less than half the cost of most 5-stars.
Being in the Baa atoll makes Royal especially distinctive. The entire atoll has been designates a marine bio-reserve to help protect the rich sea life there especially the abundant manta rays. The draw to this part of the Maldives may have contributed to this neighbourhood upscaling significantly so that it is nearly all 5-star properties and Royal is an opportunity to experience on a more most budget.
I even came away from our visit with a few "Best of the Maldives" candidates.
What's not to like?