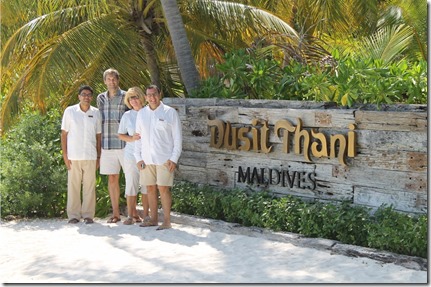 It's all about the experience at Dusit Thani.
All of the Maldives has great snorkeling. Probably the best in the world. But how do you turn that into an exceptional experience? First, you start with a great house reef (one of the best in the Baa atoll). Second, you add exceptional excursions. In the Baa atoll, this is going to Hanafaru Bay where you can snorkel with manta rays. In fact, just before our arrival the Dusit Thani folks had been on an excursion where there were dozens all over the place. And you don't stop there, but you also add a truly inspired snorkeling programme orchestrated by your top flight dive centre (stay tuned for details in upcoming Best of the Maldives).
All of the Maldives resorts have fine food. With fresh reef fish in the surrounding sea and a range of tropical fruits in plentiful supply, add savory traditional curry recipes and it's not difficult to put together a delectable meal. Add toes wiggling in warm sand, a canopy of bright stars overhead, and a serenade of gently lapping water on the shore and any meal becomes a stunning experience. But wheel in a talented chef and then a whole host of gustatory delights take the meals to another level.
Eating at Dusit's "Sea Grill", my expectations were modest. I was expecting the conventional array of basic meats and fish lovingly flame cooked. Instead, I found an extensive menu of taste treats that would impress hard core foodies in London's West End never mind on some remote island in the middle of the Indian Ocean.
One of my acid tests for great cuisine is the soup (I've written a number of times about two of my favourites – bisque and gazpacho). These are the dishes where diverse flavours can be melded into a unique taste sensation. My first challenge at Dusit was choosing. Instead of a normal "soupe du jour", I faced a several enticing options. So I did the obvious thing being a soup fan…I ordered them all. I'm not sure I have enough data and samples to go on to award Dusit a "Best of the Maldives" for soup, but it certainly was the most appetizing that I had ever enjoyed in the Maldives.
Soups and snorkeling are just two examples of Dusit Thani's meticulous efforts to provide guests with an experience as distinctive as the paradise they are visiting. I came away from my memorable stay with 14 candidates for Best of Maldives