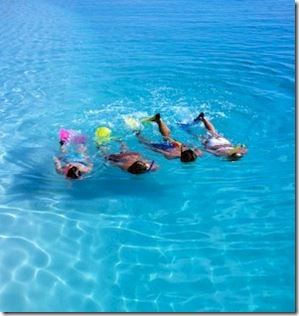 Is the Maldives the best snorkelling in the world?
The debate rages in the diver community about the best diving in the world. A number of clear criteria are considered…
Clarity of water

Quantity and diversity of fish (including '

Big 5'

and 'Little 5')

Quantity and diversity of coral
The top ten areas regularly includes the Maldives along with the likes of the Red Sea, the Great Barrier Reef, Cayman Islands, Indonesia.
But what would be the criteria for the best snorkelling and which areas would prevail?
First of all, the basic dive criteria would be a foundation and all would apply equally as well for snorkelling. But snorkelling requires more considerations…
Shallowness, low current

Easy access to shore (so you can just jump in…no boat trips needed)

Warm water (so you can just go in your swimsuit…no wetsuits)
I am surprised how little the topic is discussed in online forums and magazine articles. When it has been reviewed, the treatments seem shallower than a coral cropping at low tide. For example, Costal Living did the piece '10 top spots to snorkel' but only covered North America in its selections.  This Forbes piece 'World's Top Snorkeling Spots' is one of the best lists I have seen, but there is little accompanying text and the entire Indian Ocean is conspicously absent.  The Island magazine piece on 'World 23 Best Islands for Snorkeling' is the most comprehensive and includes the Maldives, but its singling out Veligandu would be hotly debated by many (my own research seems to point more to Kandoludhoo).
While Maldives is renowned for romance (top honeymoon spot) and diving, I think it really makes a strong case for being one of the top snorkelling destinations in the world. The atoll topography is just right for ideal snorkelling and 'house reef' conditions. Most 'house reefs' offer a stunning snorkel experience just meters from your beach villa (unlike the Great Barrier Reef which usually requires a boat ride). The waters are warm (unlike the Red Seas which requires a wet suit to be comfortable). I am more of a Maldives expert than a worldwide snorkelling expert, but most of the divers and divemasters that I meet in the Maldives who have themselves snorkelled around the world, tend to concur with my bold conjecture. Certainly, it warrants a place on anyone's top 10.