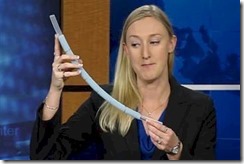 What do you get an astronaut for Christmas? A space snorkel.
As Maldives Complete is sort of the hub of Maldives resort snorkelling, (the best snorkelling in the world), I do tend to venture into other extremes of the activity around the world. Or, this week, out of the world. The Maldives is renowned for its low altitude, but NASA today brings it to a record altitude. Snorkelling in Space.
It turns out that the astronauts faced a bit of a problem with leaky space suits which almost drowned one of them. The "snorkel" is an improvised fix to work around the problem.
Maldives snorkelling/diving and space walking have a bit more in common. Diving is about the closest one will get to the sensation of being in space and being in "another world". Complete with anti-gravity as one of your first scuba skills is neutral buoyancy.