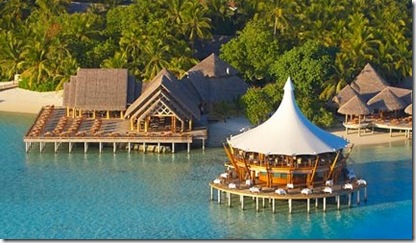 "Waiter…the best seat in the house please with a view. Make that the best seat in the world."
The Maldives has a lot of stunning beauty and the resorts there put a lot of thought into how to experience that beauty most completely. The heart of the beauty is the distinctive ocean waters dappled with a crowded palette of blue hues. The best resort restaurants get the guests as close to the waters edge as possible with waterside beach dining a crowd favourite. Others have pushed out even further onto the water (with the dramatic instance of Congrad Rangali pushing 'into' the water) with pavilions. I have visited the water pavilion restaurants at Kuramathi, Rangali and Reeth Beach, and they are quite prevalent across the Maldives.
Other resorts are now moving to 'altitude' to enhance the vista for its diners even higher. Four Seasons Landaa Giraavaru's Moroccan restaurant 'Al Barakat', Adaaran Vadoo's main bar, Anantara Kihava's upcoming Sky-Fire-Salt-Sea restaurant concept all elevate the dining to a second story for a broader perspective on the surrounding maritime spectacle. But Sakis makes a dazzling case (and photos as expected) for Baros' Lighthouse restaurant calling out the distinguished architecture and menu in the increasingly competitive category of panoramic pavilions.
"Its singular architecture can not be forgotten. And if by chance, you have already spent your holidays in North Male Atoll, you might have seen it at the horizon, brightly shining under the Sun, reminding you a lighthouse in the far end… Signature, highlight and landmark of the Luxury Hotel Baros Maldives, the Lighthouse was built on the lagoon and stands as a culinary reference by proposing an elaborated, innovative and fine A La Carte dining menu. Flavours are mainly based on Mediterranean and Asiatic Food, turning into a surprisingly taste experience when it also comes to the Fusion of both of them."