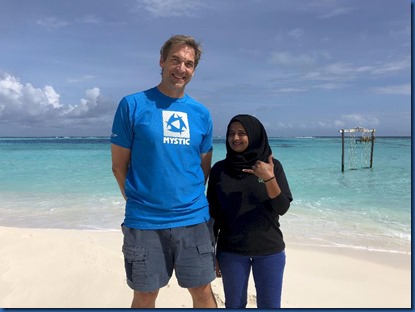 One of our favourite parts of visiting the Maldives over so many years and working on it so regularly with the website are the many friends we have made from this paradise. One of my motivations for all the work (and money) I put into Maldives Complete, is that I feel more like a participant and more a part of this wonderful place rather than just a here-today-gone-tomorrow spectator with a credit card. This year's tour in particular was full of reunions with old friends. And we had the chance to meet other fascinating individuals during our travels.
People like Thoyyibaa Ahmed at AaaVee. She is the Maldives' first female resort snorkel guide. Well, I should say "snorkel guide apprentice". She is still learning the details under the auspices of the guruVa dive centre. But she inspired us with her enthusiasm for this iconic activity in her home country where many women historically haven't even learned to swim in the past.
Those gender biases are shifting you are now seeing more and more women entering into the activity both for fun and professionally. Women like Zoona Naseem who became the first female PADI instructor (working out the Male suburb Villimale) and many more like her as demonstrated by the recent Women's Day Dive which attracted record numbers.
Maldives Complete had the opportunity to sit down with Thoyyibaa to learn about her quest to share this aquatic scenery with all guests…
What is your name? – Thoyyibaa Ahmed
What atoll are you from? – Male
What got you interested in being a snorkel guide? – The ocean is my love. I first tried to dive, but I had health problems that did not allow me to dive. So then I choose to look at snorkeling. My best friend was a snorkel guide, but had to stop when she had a baby. She recommended that I try it.
What languages do you speak? – Dhivehi and English mainly, but I am learning Italian and German. I am studying all the fish names. The names are very important.
What is the favourite thing you see snorkeling? – Turtles.
When did you start learning to swim? – Three months ago. It is my new experience. The dive master is teaching me. The first time I went in the water, I was very scared. If I am tired or weak, I will use a life jacket for safety. I am really grateful to AaaVeee for giving me this opportunity to learn to become a snorkel guide.
What do your friends and family think of your job direction? – My mother is very surprised because this is the first time I've ever done something like this. All my family and friends are giving me their full support. I never give up. I keep trying. My mother is always asking questions about how it is going.
Who uses a snorkel guide? – Any guest really, but some guests come here alone and they need a buddy to accompany them.
Any advice for any other women interesting in snorkeling? – Snorkeling is the best thing I have done. There is no reason to be scared. Women and girls who have not learned to swim should not be scared. You can do whatever you want. Don't give up.