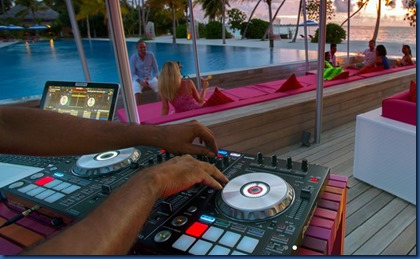 Sights, spaces and now sounds. Kandima's artistry pervades its island with a fresh approach that engages its guests and fans. Its artist studio is run by an up-and-coming local artist to produce fresh works as well as to collaborate with the guests themselves. And the same spirit of creative engagement is being applied to the resort soundscape with the Maldives first ever music competition:
"The first ever 'Music Boss Wanted! Competition' invites aspiring music writers, composers, singers and DJs to submit a video to Kandima Instagram or Facebook for a chance to win an amazing US$7000 cash prize and a full-paid holiday to the new island destination – how Kool is that?! To enter the competition, the applicants must upload a short video of themselves singing, playing a musical instrument or DJing to Instagram or Facebook using the unique hashtags #KandimaMusic and #KMusicBoss…Then the TOP 10 shortlisted applicants will be picked, and their videos will be uploaded to Kandima Maldives blog, followed by the K'Music Boss announcement on 21st August 2018. The winner will get a chance to create the Oh-So-Kool playlist with eight tarcks, which will be officially launched during the resort's grand launch of its new Pool Party Series on 15th November 2018. The K'Music boss will also be setting the K'Mood with their playlist on the resort's hop on/hop off buses, in all the studios or villas, and during the super Kool events both locally and globally – as a K'Music Boss should!"
The entries to date that have been selected and can be sampled here. But, *NEWS FLASH*, Kandima has extended the deadline to mid-September! So anyone needing a bit more production time (or just finding out about the competition now) can get their creative juices going and join the jamboree.