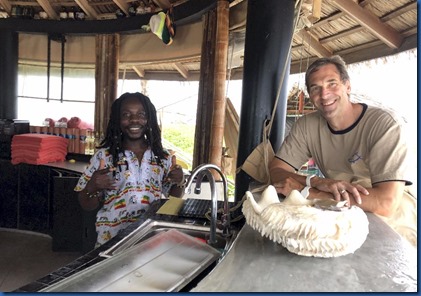 "Fifteen men on a dead man's chest, Yo ho ho and a bottle of rum." – Pirate diddy
Not just any rum bar (and not a "rumba"), but a Reggae Rum Bar at NIYAMA. Set up and run by rum aficionado Tony from Jamaica (via South Africa). Perched on the beach at the reef edge, it is the ideal spot for landlubber's to watch seadogs hang ten or watch sunsets with their favourite grog.
Of course, rum is the foundation of my favourite resort drink – the Pina Colada. The Surf Shark didn't do a pina colada, but instead a slight variation on it called a "Llama Colada". But its "Zombie" cocktail had one of my all-time favourite descriptions: "The King of the Surf Shak cocktails. Strictly one per person per night" (see photo at bottom). Of course, it was so intriguing, Lori had to have one. Tony's favourite rum is the exclusive Diplomatico which took the guile of a swashbuckler to get to the Maldives.
Here are some of the rums on offer…
Ron Zacapa Centario
Havana Club
Pampero Aniversario
El Ron Prohibido
Ron Flor De Cana
Pyrat Rum XO Reserve
Clement Premier Canne Rhum
Clement Martinique
Diplomatico
Bacardi
Captain Morgan Jamaica Rum
Captain Morgan Spiced Rum
Captain Morgan Cannon Ball
Malibu
Caribbean Rum with Coconut Flavour
Plantation Rum
Meyers Rum Original Dark
Flor de Cana
Cachaça Agacana
"Drinkin rum before 10.00am makes you a pirate, not an alcoholic" -Earl Dibbles JR