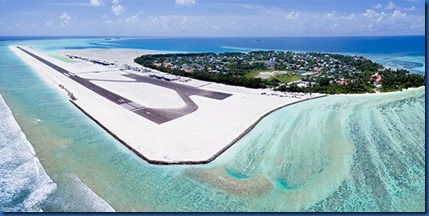 The major point of a private jet is to avoid stopovers and transfers and just get directly from point A to point B. With so many of the super-luxury resorts a plane ride away from the main airport in Male, the most affluent look to fly their private jet straight to their island. No resorts have their own private jet runaway, but NIYAMA is a mere 7 minute boat transfer from the newly opened Dhaalu Airport.
Dhaalu Airport can now handle and process long range jets up to 111 feet in length, with ninety-six hours' notification required to arrange a private international landing and departure, including immigration, customs and legislated health checks and requirements for arriving passengers.
I wouldn't have included NIYAMA in the list of "super-luxury" properties that most of the private-jet-set would frequenting, but maybe this convenience will boost their appeal.