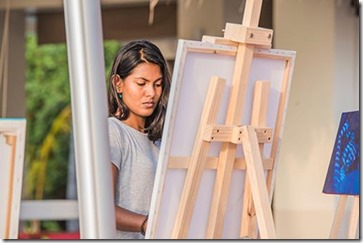 Today's post is also sort of a "Finally Seen". I've been telling resorts for years that they should commission Aima Musko to do art pieces for their villa.  She is one of the finest artistic talents in the Maldives and I can proudly say that I was Aimee's very first customer to buy one of her paintings. Well, finally, Aimee – and a number of other fellow Maldivian artists – are being assembled by a resort, Kandima for their KULA 'programme' (they refer to it as an 'exhibition', but it is really more like a resident festival):
"KULA means 'Colours' in Dhivehi and it is our vision that this programme will support the full spectrum of the contemporary creative arts, from local crafts, fashion, digital photography, videography to music, and open up new horizons for the local art community like never before. The entire resort will be a glorious art gallery and thanks to collaboration with MAC (Maldives Artists Community, a local art NGO with over 100 members), Kandima Maldives is set to host regular exhibitions and exciting performances by local artists. There will be live art demonstrations and guests can unleash their inner Picasso with classes at Kandima's very own Art Studio. Set on the edge of a natural lake, it will be one of the most peaceful locations on the island, giving both guests and artists the inspiration and calm space they need to create their masterpiece!"
Colour me delighted.