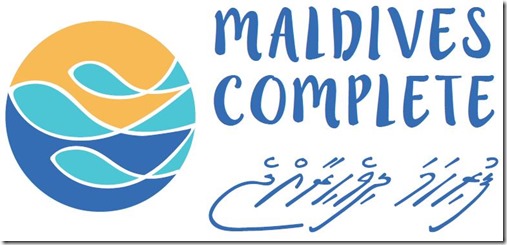 The Maldives keeps developing and getting better and so, we hope, does Maldives Complete. The latest refinement injects an extra bit of authentic Maldivian style and flair to the site with the contributions of up-and-coming artist Aima Musthafa (see photo below) who has redesigned its logo and design palette.
I've admired Aima's work since I first discovered her in the "Cool Women" piece. I'm honoured to have been her very first customer and proud owner of her triptych "Raalhu Girl" ("Raalu" means "wave" in Dhivehi). After going abroad for some art and design studies, she has returned to her home shores to ply her creative brush and was recently was showcased in Kandima's artist collective.
The Maldives Complete brief was to infuse the look with colour and culture of the Maldives it represented. I wanted to add the Dhivehi words for "Maldives Complete – "Furihama Dhivehi Raajje". So Aima selected a font that would work well in both languages capturing the dynamic fluidity of the Dhivehi characters.
Part of what drives to me to this hobby is the escapism of immersing myself into the Laccadive world even though I am hunkered down five thousand miles away in damp, chilly England. I've always crafted the site to be saturated with local imagery so using it would be like a digital visit to this paradise. I have always used a collection of colours that evokes the vibrant tropical and aquatic tapestry of the destination. Aima formalised this palette some colours more carefully aligned in tone and complementarity (see her notes below). She then blended the native colours into a design similarly melding familiar shapes and forms. The result is a striking new emblem for all complete Maldives appreciation.
The new logo has also been an opportunity for a general cosmetic tidy-up to the site as I had to touch so may main pages. I have aligned some of the graphical elements more precisely and used Aima's colour palette in place across the pages.
ޝުކުރިއްޔާ އައިމާ