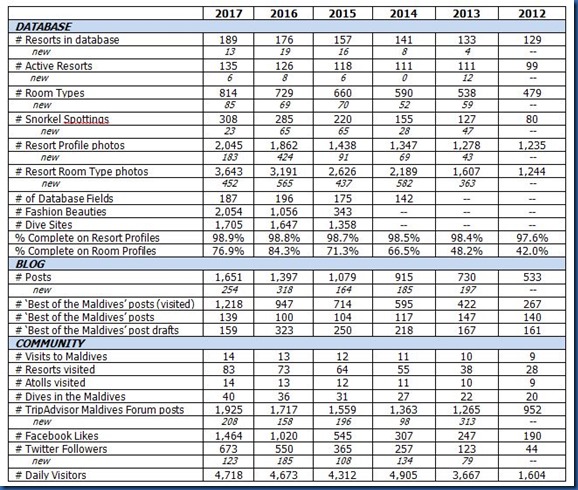 Another year of Maldives fandom completed. The 9th anniversary of the Maldives Complete website.
The Resort Profile data is inching forward in completeness with Resort Profiles up to 98.9%. The primary issue causing remaining holes has been the addition of new resorts at new atolls, like Raa and Thaa, where I have less dive site information so Dive Charts and Dive Maps are missing from the profiles. The completeness of the Room Type profiles dropped a tad with a record number of new resort launches (room type material is hard to obtain and takes longer to collect).
This is probably the first year that I have not added a major feature or component to the site. So maybe not just the Profile data, but the even the functionality of the site is growing more "Complete".
All that said, the site hasn't stood still. In addition to the ongoing research, responding, updating, and other refining and polishing, I made a few significant changes:
New Logo – The look of the website got refresh a bit with its new logo by Maldivian artist and designer Aima Musthafa. The new branding added an local Dhivehi dimension. In the process, Aima provided some superb input as we cleaned up the look a bit with her more coherent colour palette. She has proposed some more dramatic change to the home page which I am working on (stay tuned).
Name Meaning – I actually cleared down a number of unused fields in the database, but I did add a fun one which took a fair amount of research populate further extended the Dhivehi dimension of the site – "Name Meaning". And I learned a bit more Dhivehi in the process.
The Fashionista features keep growing in popularity and are fuelled by even more Instragramming than ever providing lots of shard photos to curate for the Maldives aficionado crowd. Below is sort of a 'leader board' of the top social media fashionistas to visit the destination…