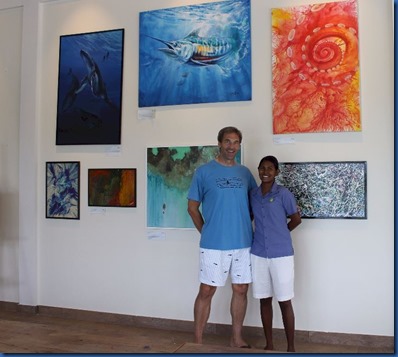 Aima Musko and I got way back. When I had just started Maldives Complete and she had just started her career in art. She's helped me with the website (doing the new logo this past year) and I guess you could say that I helped her as her first customer. I knew that she had been a part of the featured artist series at Kandima, but I hadn't realised that she had stayed on as an artist-in-residence at the resort until we visited there in July. She caught me up on all the latest and greatest in her artistic exploits as well as her exciting plans for the future. And here in a Maldives Complete exclusive, she is sharing a bit of her creative life on the island of Kandima…
Which atoll are you from?
G.Dh. Fiyoari (Huvadhoo Atoll) but have always lived in Malè

What art training have you had?
Visual Arts in High School at Mahindra United World College of India and Foundation in Visual Communications at The One Academy in Malaysia.

What is your big frustration as an artist?
Other than getting easily frustrated as a perfectionist, being limited and restricted as to what can be exhibited here.

What was the first painting you ever sold (tell us your side of the story)?
While working at Transparency Maldives in 2011, I was asked to be the artist on a video that was celebrating women and had to make a painting for it. The video "Salhi Anhenun" (Cool Women) was uploaded to YouTube and after a few days I was contacted by the production team saying that they had someone interested in purchasing my painting. I met Bruce at a Cafe in Malè and since that day, I'm so happy to know that my painting has been hanging in his house all the way in UK for the past 7 years!

What artists have influenced you?
With Social Media like Instagram, I'm following various artists from all over the world with different mediums and techniques and have been continuously influenced by their styles. However I would say visiting the Art Exhibitions in Malè when I was younger and seeing the works of Artists from Maldives (Afu, Ika and Eagan to name a few) really left a lasting impression on me. Having creative friends and drawing together in school, working in different creative fields.. I'm constantly inspired and influenced.

What is the biggest misconception about art that you face?
That good art is how realistic you can draw. Also that if you are an artist, you will be good in every aspect of art and the mediums.

If you could buy one piece of art in the world (money is no object, it could be millions), which one would it be?
A painting by Ika of a Blue lady holding a cigarette that I saw in a house I visited with a friend about a decade ago. It just always stuck with me and I would love to own it for the impact it had on me. The second would be "The Kiss" by Gustavo Klimt.

You can check out her personal online gallery here.