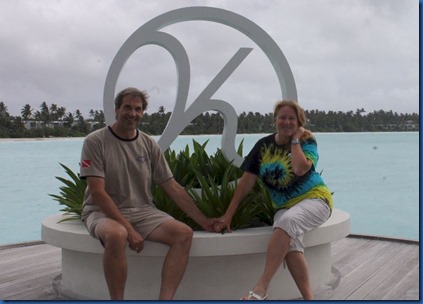 Kandima is my Golden Buzzer entry in the Maldives' Got Talent resort show this season. I know Simon Cowell would give it a thumbs up. I can just hear him saying, "From the moment you stepped on stage you had our attention. You have taken a classic and made it your own. It is so inventive, so fresh, so current, so now. The great thing about this show is discovering things that you haven't seen before. There is definitely a gap in the market for something like this."
I am a sucker for aesthetic design. So many resorts try to capture the Maldivian spirit by emulating the traditional design and craft. Kandima's inspiration comes from nature. Predominantly the ocean (with a rich, pervasive palette of blues), punctuated by vibrant greens and touches of palm fronds. Kandima has perhaps my favourite reception area. Like the entire resort that it welcomes you to, it is modern, dramatic, creative. It's cathedral-like nave opens to the blue skies.
It is no surprise then that I bumped into my favourite Maldivian artist, who is actually an artist-in-residence here – Aima Musko. I was Aima's first as an artist, and then a customer of hers for design as she re-conceived the Maldives Complete logo and website theme. We have stayed in touch as friends over the years and it was a real treat to meet up with her face to face again at the resort. I knew she had been here when I wrote about the Kandima Artist's Studio, but I thought that was a short-term event or promotion. It turns out that the Studio is a full time programme that the resort continues to invest in and expand (stay tuned for a profile on this young lady who is a talent show in her own right).
Kandima is ranked as a "4+ star", but really it stands shoulder to shoulder with about any standard 5-star resort and is in fact far superior to many Maldives properties claiming to be 5-star. The restaurants are as good as any top-flight property and actually, some operators are calling Kandima 5-star whether the resort does or not. If you appreciate design artistry, then Kandima is one of the best value for money options in the Maldives.