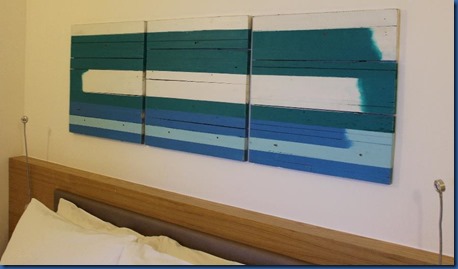 I've always wondered why the Maldives resorts didn't use more Maldivian artists for room décor. I've come across so many impressive talents in my decades of Maldives visits. Their renditions of the Maldivian vignettes are as personal as they are authentic. But my favourite of all resort artwork are the commissioned room paintings for the Summer Island resort revamp.
When I entered my the first room on my resort tour this July, I was stunned by the abstract painting over the bed (see below). It had captured the paradise parfait of colour that define the vistas from any point on any island. White sand, turquoise lagoon, azure ocean, green island, robin's egg blue sky. This distinctive striation inspired my own graphic design in the header to this blog (see top of page). Also, you can see it in the header picture of the Maldives Complete Facebook page.
Every room has its own unique piece. And the "Do Not Disturb" signs for the door were similar crafted. All the work was done by an in house artist.
Mastery in the master bedrooms.