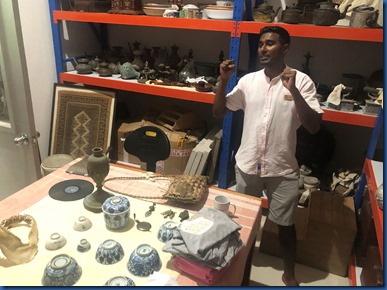 "A Thousand Years of Receive Visitors – To Change and Be Changed: Maldivian history is defined by travel and transformation. The archipelago's location has historically made it an easy discover for settlers from the subcontinent. Their arrival throughout the millennia alongside the bloom of trade across the Indian Ocean, resulted in interactions responsible for embedding the objects her in The Dutch Onion – and producing today's diverse Maldivian communities."
I already written the about museum on Maamagili, but the work continues under the new management of Cora Cora. The extensive collection of heritage is not just a showpiece assembling a few artifacts for the cultural curiosity of the guests, but instead an ongoing research, excavation, restoration project that continues to literally unearth treasures from the Maldives' distant past.
The work is conducted at their Collection Centre where they continue to examine and catalogue pieces found on the island. During my visit, experts in ancient Chinese porcelain visiting to the resort with the primary objective of examining the trove of artifacts. The resort is still moving an ancient mosque uncovered during construction and is reconstructing it. In fact, a entirely new bathing tank found and excavated when the Cora Cora property was developed.
Stay tuned for upcoming posts on some of the intriguing details of this archaeological work.