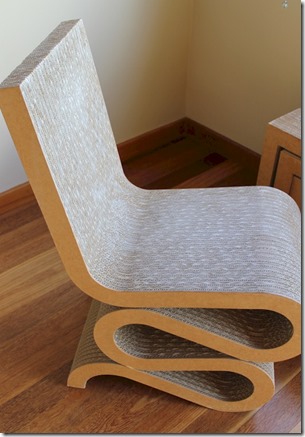 World Design Day today. Increasingly, Maldives resorts are looking to stylish design to distinguish their properties so there is vibrant portfolio of creativity found across the destination.
Today's feature evoked my recent trip to the famous Design Museum in Denmark. One of their most famous exports exhibited is the Danish chair. A further geo-personal connection living as we do near High Wycombe, home of the Wycombe Wanderers, known affectionately as the Chairboys (we can see their training ground from our house).
The exhibit featured a wide array of quirky and inventive styles, but one that caught my eye was Gehry's cardboard creations (see photo at bottom)…
"The architect and designer Frank Gehry has been working with cheap and everyday y materials in new and untraditional ways on a small and large scale. In 1987, he created the very sculptural cardboard chair while working as an architect on a cardboard model. He wanted to experiment with the material and discovered that it was possible to transform huge piles of cardboard into sculptures. Little by little it turned into a chair and became one of the icons of the 20th century. And then it is sustainable."
And you can find such museum quality pieces at in the Maldives as well. Huvafenfushi's CUBE villa comes with its own similarly inspired chair with a name as fun as its sinuous shape – "The Vitra Wiggle". It is accompanied by a set of cleverly nested tables as well.