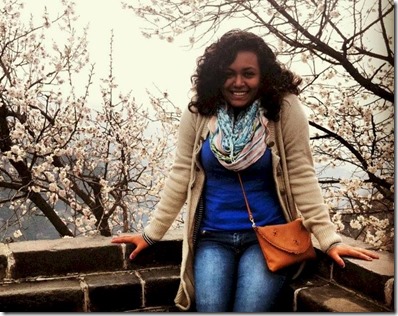 Who puts the "fun" into "Funoas"? Kandolhu has introduced the "Funoas" range of swimwear which you can buy at the resort. Her designs based on the distinctive and colourful sea life of the Maldives are truly inspired. We caught up the Maldivian born Funoas designer Sumii Haleem for her first exclusive interview:
Q: Where are you from in the Maldives?
A: I was born and raised in Male', Maldives. My mother is from Henveiru district and my father is from Maafannu district.
Q: Where are you living now?
A: I am currently living in Perth, Australia.
Q: What brought you there?
A: Education brought me here to Perth. Back then, when I finished high school, there were no universities in Maldives. Anyone who wanted to get a tertiary level education, had to go overseas. So my parents decided to move to Australia so my little sister and I could have a chance at a quality education. Ever since then I have been moving back and forth between Maldives and Australia.
Q: What inspired your career in art?
A: I have always been fascinated by nature and science and have always used art as a way of expressing this fascination. I also grew up around my aunt who was a seamstress. So it was a combination of curiosity and exposure to designing clothes, that started my career in art.
Q: What was the first piece you sold?
A: The first piece of artwork that I ever sold was in 2012, an abstract ink on paper drawing called "The City Never Sleeps". It was on Society6 that I sold this print. I felt ecstatic, that someone had actually bought my artwork!
Q: How did you move into fashion?
A: Initially, I started printing my artwork on t-shirts, mugs, laptop and phone covers on Society6. I got a lot of positive response from friends and with their encouragement decided to start my own clothing line. At the time I started working on Funoas, I had also just started scuba diving and was blown away by the beauty and the vulnerability of our coral reefs. I wanted my brand to be an environmentally conscious one, so I could use clothing and fashion to create awareness about issues faced by Maldives, such as climate change, global warming and sea level rise.
Q: What's your biggest selling item?
A: My best selling item is the Thaana printed clothes. Thaana is the unique writing system of Maldivian language, Dhivehi. I created this piece because I thought Dhivehi is a unique language spoken by a minority of world's people and the scripture is also visually so unique and eye catching. So I think this print is very sentimental to Maldivians, especially those that live away from home, like myself.
Q: Who are your favourite designers?
A: My art is influenced by people from different walks of life, nature and scientific concepts so it is difficult to narrow it down to only designers. Some of the people that influence my work include Ashish Gupta, Adam Manik, Hassan Manik, Aishath Shafeeg, Moosa Mamdhuh, Ahmed Shafeeg, Maya Arulpragasam, Karl Lagerfeld, Frida Kahlo, Salvador Dali, Nicola Tesla, David Attenborough,Fibonacci, Neil Degrassi Tyson, Scuba divers and all underwater photographers, just to name a few.
Q: If someone gave you $1 million to invest in your business, what would you invest it in?
A: If I had a million dollars I would invest it on building Funoas to become an internationally recognised brand that creates quality clothing, 100% ethically and eco-consciously. I would concentrate on creating our products solely from recycled polyester, which is something I am currently looking into for my future collections. Once Funoas is a well established clothing brand, I would love to be able to work with local Maldivian environmentalists, marine researchers and climate change advocates to study more about our own marine ecosystems and bring a positive change to Maldives' growing environmental crises. I believe this is a social responsibility.