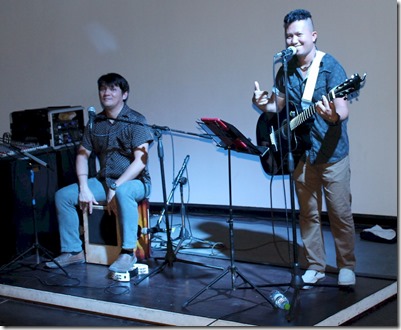 After a day of snorkelling, diving, exploring and soaking up the sun, Lori and I are usually ready to collapse under the stars after dinner. A number of resorts will feature entertainment in the evening and in many cases, the DJ or Boduberu is just too uninspiring to get us up onto our weary feet. And even if we can do, many of the resort bars and lounges have limited dance floor designed more for gentle swaying and bopping around the handbags. Lori and I both study ballroom and Latin dancing and we hadn't found a resort where the music extended to such diverse genres and offered the room for really stretching out our heel leads and cha-cha-cha's. Until we visited Sun Siyam Irufushi.
Their main bar, The Water's Edge, boasts a 20m diameter dance floor with plenty of room to stretch out your dancing legs. Especially, since we had it to ourselves (well, until our ice breaking spurred several other couples to join in the romantic fun).
But the key to good dancing is good music and that's what really got us going. The music led by Philippine duo "Intonation Band" (though I think they also go by the name "Desperado"). Not just a gigging band ushered in for the evening, but residents of Irufushi for 2 years. The duo consists of Henri and Rodelle (see photo above) who both play a range of instruments.
It's not just the range of sounds, but the selection of songs. They will play virtually any request for you. They have an iPad app which allows them to download music and lyrics for an extensive library of favourites. We were able to get a cha-cha-cha, rumba, tango, waltz, even some jazz tunes (today is Jazz Day, by the way). The band was able to not just sight read the music very adeptly, but also sing along as well. The finale was Cat Stevens' "How Can I Tell You" which is Lori's "our song" (played at our wedding, etc.). Hard to imagine a more romantic finish to the evening dancing under the stars to your favourite song played live, in your favourite part of the world with your favourite person. Bravissimi!