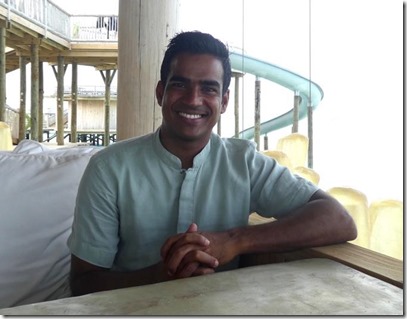 May 1st today is known round the world as International Workers Day. A chance to celebrate and support the workforce that drives our lives and welfares. One of the best way to lift up a work force is with education and training.
A new generation of Maldivians are on the vanguard of building the country into one of the world's finest travel destinations. An exemplary example is Ashraf Adnan at Soneva Jani who at 26 is the Maldives' youngest training manager.
Soneva's acclaimed ethos of sustainability is not just about the environment but start with the very people working hard to create the finest guest experiences. Sara Ballinger, of the The Daisy Gray Partnership, was his Ashraf's first manager at Soneva and she spoke to him about his career (with Maldives Complete adding a few of its own questions). I was particularly intrigued since Leadership and Management is my other pet interest (so leadership and management in the Maldives is double delight for me)…
Q: Where do you come from in the Maldives?
A: I come from Guraidhoo in the Kaafu Atoll.
Q: What was your first job?
A: After completing my education I got my first job at age 19 when my brother told me about a job opening at Olhuveli Beach and Spa resort as HR Administrator and Coordinator. In truth I wasn't learning much, it wasn't a five star resort and I was ambitious, so I took a distance learning course which I funded myself and after two years I achieved a further qualification in HR Management. That gave me the confidence to apply for a position at the 5 star 'LUX Maldives' resort in the South Ari Atoll as HR & Training coordinator.
Q: Who or what influenced you early in your career and how?
A: I spent the next 18 months in my role under the management of Mr Hussain Afeef who is the most successful learning & development professional in the Maldives in my opinion and is also Maldivian. At this point the thought of standing up in front of people terrified me. I had no interest in doing that at all, but Mr Afeef inspired me with the way he delivered. I watched him at work in the training room and in time I got up the courage to try standing up and talking to people. I wasn't perfect from the start but with continued encouragement and coaching I built up my confidence and my skills and after a time I started to deliver some of the training myself.
Q: What brought you to Soneva Fushi?
A: One day I saw a job advertised as Assistant Training Manager at Soneva Fushi in the Baa Atoll. Soneva had a reputation as being one of the very best resorts in the Maldives and also for having a culture of responsibility for the environment and for protecting this beautiful country of ours. I heard that they also looked after local communities and were more ethical and sustainable than most luxury hospitality brands. I really wanted to work for them! I was so happy to be offered the position and really worked hard at building my skills by practice, practice, practice and watching video's online, reading about how to deliver great training and more practice! At this time, I did not have a manager to learn from and so I did my own self development. Delivering became easier, but without a manager of my own to teach me I didn't know whether I was doing a good job or not.
Q: How did you prepare yourself for training leadership and management?
A: Sara Ballinger joined as my manager and I really started to learn about how to deliver leadership training and how to think about training in a different way. I learned how to plan and write and read training plans, how to present the information in the sessions, how to read the audience and handle them and deal with problems when they arose. Sara gave me the opportunity to go to Thailand to work in our sister property Soneva Kiri for a month. This was great exposure and really helped me to understand how to work with different cultures and in different ways. We did so much great stuff! Learning Olympics, a brand new Induction, lots of presentations skills, train the trainer and leadership training. The reason I am now a training manager is because I learnt from my leaders
Q: What has been the key to your achievements so far?
A: Coming out of my comfort zone and taking a risk. Without trying you will never know! You ask 'but what if I fail' – I ask 'what if I don't?' Try anyway. Also you must believe in yourself if you want others to believe in you. And self development, don't expect others to do all the work for you – you have to take responsibility for your own learning.
Q: What are the biggest obstacles that you have faced?
A: People want experience, so breaking into the egg-shell can be hard if you have no contacts. Start somewhere, even if it's not the job of your dreams and is a lower position, just to get a start. Then chase your dream!
Q: Soneva recently opened its new Jani property. What is different training for a new opening property compared to an established property?
A: The difference between training for a new property and established property is that in a new opening property, training programmes are designed in a way with great potential to be a part of the team and to progress rapidly within the company. From the very basics to Heath and Safety, resort policies and procedures, brand trainings etc. In any pre-opening employees will take part in all the training programme that company has to offer.
Q: What is your favorite book about leadership and management?
A: 7 Habits of Highly Effective People. It's gives great lesson about personal change and growth.
Q: What is one of the biggest myths about training?
A: People get confused between a teacher and a trainer. 🙂
Q: If you had $1 million to invest on an a training initiative in the Maldives, what would you spend it on?
A: I would open a training institution in the Maldives specially for those youngsters who are seeking for job opportunities in the Maldives resorts. One of the main challenge youth of the Maldives faces is when they start hunting for jobs in the tourism industry, due to lack of experiences it makes very hard for them to find a job. An institution where we can train and certify them in every role there is to offer in a resort.
Q: What do you see in your future?
A: I am inspired by the people I have been working with here at Soneva. I look at my bosses' jobs and I wonder what I can learn, how I can follow and then I will try to be them one day! I will be Director of Learning & Development one day and then Group Director of Learning & Development. I have a new manager now and I am looking forward to continuing my development with him. I have a clear view of my future and I am excited about the journey.
Q: What do you like to do when not at work?
A: I love to surf, play guitar and read, non-fiction – books which are inspirational and teach me something.