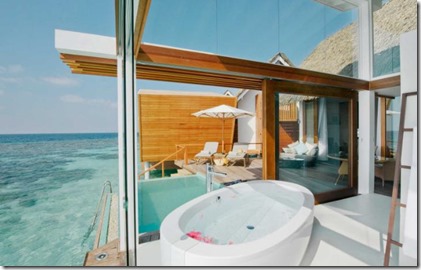 Maldivians are not just working in the resorts, they are building and designing them. One of the pioneers leading the way in envisioning spaces with the same aesthetic beauty that the destination has become renowned for is Mohammed Shafeeq. Part of the local Maldivian GX Associates architecture firm which have designed many top properties in the Maldives, he was introduced to us by the Kandolhu resort who were particularly proud of the award-winning work that he did in the redesign of their resort a number of years ago. I caught up with Shafeeq to learn a bit more about his background and perspectives…
Where are you from in the Maldives
I am from Male' and also brought up in Male.
Where did you study?
I studied in Maldives (in Male') completed my A Levels and then went onto university in the UK at the University of Newcastle upon Tyne to study architecture.
What was the first thing you designed?
The first thing I designed was a small island in the North of Male' Atoll which was basically a concept sketch on art paper which was developed to be a small resort by the owners.
Which other resorts did you design?
Some of the resorts we designed include Anantara Dhigu, Anantara Kihavah Villas, Anantara Veli, Baros, Coco Palm Boduhithi, Coco Palm Dhunikolhu, Constance Halaveli Resort, Four Seasons Resort, Fridays Resort, Hilton Irufushi, Huvafenfushi, Kurumba, LUX Maldives, Maafushivaru, Mudhdhoo and some of the more recent ones are the Thundi in Kuramathi and Milaidhoo.
How has your approach changed as you do different properties?
The approach always follow the trends in fashion, lifestyle and technology and the tastes of the travelers and I always try to stay ahead by reviewing other competing developments in the region.
Have you designed any non-resort properties in the Maldives?
Yes, I did much residential and civic work before specialising in hospitality design and they include private residences, apartment blocks, law courts, hospitals, schools and prisons even.
What is something they didn't you in design school that you had to learn the hard way through experience?
What I learned through experience is the delicacy and expertise required when you model the built environment to appease the senses of the users to make them feel totally comfortable and create an ambience that is akin to a home with a magical touch.
Which designer has had the greatest influence on you?
Frank Lloyd Wright.
If you were given a blank cheque and a completely free reign to design the resort of your dreams, what sorts of design element would it feature?

It would feature a back to basics, barefoot and eco friendly nature resort with an extremely luxurious ambiance where natural and built environment will have no boundaries.

What are some of the constraints or considerations to designing for a remote location in a tropical environment?
The constraints are mostly to do with the size of the island and the requirement of the client to have a set number of villas and spaces on that island but to afford the best views and settings for each and every public building and guest villa.
Are there any projects you are working on that you can share with us?


Right now we are working on two projects in Baa Atoll, One in Raa Atoll, One in Noonu Atoll and Two in Male' Atoll.