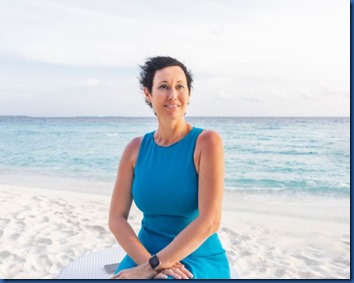 Looking at the "better half" issues at the halfway point of International Women's Month. Some women find their satisfaction in the workplace and some find it in the household. Some women find it from both. And for some, the home is the workplace. Such is the case with resort spouses. Juggling the two spaces can be a real challenge. Not to mention juggling the roles of worker and wife. Mind you, increasing numbers of men also face these dilemmas, but historically, it has been the women who were more torn between both. Amilla Maldives Victoria Kruse's own juggling of so many roles, managing the blurred lines of home and work on a resort, and pioneering initiatives in the Maldives make her a role model for women looking at resort careers or co-careers with their husbands.
My father was a clergyman and so I observed the role that my mother played as "Minister's Wife" which was also a "job" in its own right even though she did have her own career. The congregation had certain expectations about the presence and contribution of the minister's spouse. So I grew up with a first-hand view of this informal business-marriage partnership.
The resort couple I have known the longest in the Maldives is Jason and Victoria Kruse. They are (along with atoll neighbours Sonu and Eva Shivdasani) one of the most prominent resort leadership couples in the Maldives. I've already profiled Jason's extensive and distinguished career in the Maldives, but I have long wanted to do a similar profile on Victoria. Her contributions at Kurumba and then Amilla have been noteworthy and growing in prominence with every year of her service. When we last visited Amilla, we noticed that Victoria's activity and role was beyond full-time and pervasively wearing so many hats. So she was happy to share an exclusive Maldives Complete interview about this experience:
How did you and Jason meet?
Jason and I were introduced through mutual friends at a BBQ in Bali. Jason was a managing a hotel there and I had a fashion label back then. We each tell a different version of the story of course!
How did you decide to take an active resort role at the resort?
It depends how you define active role really. At Casa del Mar in Langkawi I interacted with the guests but that was all. At Kurumba, Jason asked me to "help out" with the resort boutique as it was in bad shape. From that I started a retail consultancy business for resorts and was involved in the Kurumba boutique plus I also helped out with design things. At Six Senses Fiji, I was a consultant to the owners for the wellness area and store and as happens during opening I was called on to help with other things. In fact, Amilla is the first property I have had an official role working for the resort itself!
What is your current role at Amilla?
Director of Sustainability and Wellness (also responsible for Events) – however over the past three years I have acted as the F&B manager, Executive Chef and Director of Sales not to mention purchasing and more. It is hard to define exactly as I also welcome and farewell guests and spend time speaking to guests at each meal period.
What is a biggest challenge to couples working together on a resort?
Honestly it is the attitude of owners and management companies that do not accept that management couples can work. Most big companies and many traditional owners are very against it or ban it completely. For me it makes sense in a remote destination.
What would be one tip you would give to couples working together at a resort?
Define responsibilities with yourselves and then everyone else.
How do you keep a boundary between resort life and home life?
Umm we don't!
What resort initiative that you led are you most pleased with?
Wellness Your Way. This was a hard one to get everyone onside with, especially the previous culinary team. Winning Wellness Cuisines of the Year in 2021 with Destination Deluxe was a vindication enough but now seeing so many guests booking Amilla because of the WYW menus is amazing.
If you have one piece of advice for a woman who wants to succeed in resort leadership, what would it be?
Don't lose your femininity to fit in with the "boys" but use it to connect with people.
If you have one piece of advice for a woman who wants to join their husband on a resort posting, what would it be?
Have clearly defined roles and try to set up your house as a non-work environment (just to be clear I have totally failed on this one).
What if anything do you wish you had done differently ten years ago or more?
Stood up for myself and secured a clear job.
Ten years from now, what do you think you will regret doing too much of or too little of?
Allowing too much working stress and too little do things outside of work.