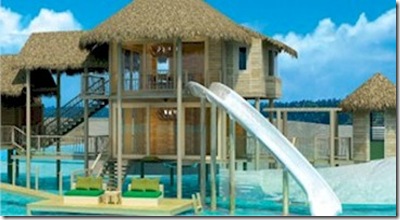 My 2011 summer tour was a huge success in ferreting out all sorts of impressive and quirky distinctions of the resorts I visited and elsewhere. After last week's follow up round of new posts, I am now up to 180 'Best Ofs' with that number again in the wings. I've even had to revamp the Best Of page which has given me the opportunity to integrate another great Sakis piece (everywhere I went, people knew about Sakis and his work).
I have now visited 28 resorts and yet there are a number of things I have yet to see. Given the frenetic arms race of the resorts to outdo one another with creative offerings and twists, these seem to me to be some candidates that range from obvious to obscure. I've broken them down into a few categories…
Enjoying the water…
Enjoying the vistas of the unique seascape…
Observation tower – For years now the trend in the Maldives has been to 'go down' (ie. underwater) for the super-luxury jaw-dropping attractions. A few top resorts are starting to 'go up' with some two story and roof top structures. These elevated places are actually quite appealing because they provide a broader vista over the turquoise and sapphire seas surrounding. For a long time, 'going up' has been a big approach to attractions (eg. Eiffel Tower, London Eye, Seattle Space Needle, Toronto Tower). For a super-luxe looking for that next 'wow' thing, I suspect this sort of feature might spark some possibilities.
Hot Air Balloon – Champagne ballooning…ah, duh. Modify the basket so it floats when it lands on water. No shortage of landing places. Nor shortage of aerial scenery. A senior official in the Ministry of Tourism thought that a resort had tried this years ago, but I couldn't find any reference to it.
Skydiving – A group did a one-off

skydiving trip in the Maldives

out of Hanimaadhoo airport a few years back, but never followed it up with more. Parasailing is already quite popular and tandem jumps seems like the next step up to enjoy the distinctive views.
Neglected delicacies….
Banoffee Pie with Coconut Cream – Easy to make. A crowd pleaser. Local ingredients and tastes. Why is this not on the dessert menus?
Gourmet sausages – A big visitor population is British and a staple of the English breakfast is the sausage. Lots of people like a good sausage for breakfast and they are easy to prepare and serve. But sausages in the Maldives are always these anaemic little tasteless things. A number of specialty sausages are made from venison and other meats so an enterprising Maldivian could create a small business of gourmet sausages made from something other than pork. The closest I have come upon is

Kurumba's

beef sausages.
Special sports…
Golf hole from one island to the next – The dearth of golf is one of the great holes (pun totally intended) in the Maldives offerings in the minds of many affluent travellers. And yet the Maldives has such great potential to fashion a '

Holes to Play Before You Die'

. Essentially, a tee on one island with the green on another. The greatest water hazard ever.

Club Med Kani

or

Kandooma

could set this up tomorrow.

Clay Tennis Court – Bit of a old-school, traditional cachet. Less baking hot, easier on your feet and typically more fun for recreational players than asphalt without the difficult maintenance requirement of grass courts.
Motorised Hammock – For those who are training for Olympic calibre indolence, I can't imagine better training kit than a

motorised hammock

. In fact, I can't imagine any place on earth that wouldn't be made better by but the Maldives seems a natural with its soporific qualities.