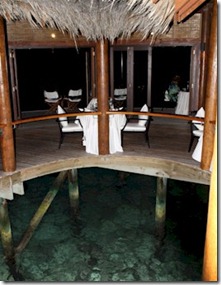 After last year's tour, I wrote one of the highest profile pieces of the blog to date called 'What I Haven't Seen Yet'. It got a bit of notoriety when the Maldives Tourism Promotion Board sent a copy of it around to resorts for their interest and local press felt that MTPB was taking my ideas (I clarified that I am a big supporter of MTPB efforts to promote tourism in the Maldives and they were welcome to my pieces).
During my recent visit, I came up with yet another list of stuff I haven't seen, but might just appeal to a segment of Maldives visitors. But before I post that tomorrow, I thought that an update of the previous list was in order since I have NOW seen a few items on the list…
Golf Course – Shangri-la opened the

biggest facility for golf

yet.

Restaurant Deck – I said 'Star Shaped' as a way to optimise water proximity for the diners, but Mirihi's circle is close allowing an inner ring and outer ring of diners to all have front and centre access to the water (see photo above).
Water Slide – This one was the marquee item item with the accompanying illustration on the post. Gili Lankanfushi does

have one at its Private Reserve

.

Gourmet Sausages – Sun Island and Lily Beach. Both chicken sausages, but nonetheless finally approaching the savoury quality that would be considered a standard good enough for an English fry-up.
A lot happens in a year.