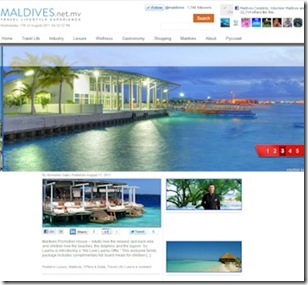 I wish I had said that.
That's what I keep find myself saying following Maldive.net.mv's Twitter stream of, among other things, great scoops and stories on Maldives resorts. Fortunately, my pride is not so strong that I am beyond a plenty of borrowing from their leads (with full and proper attribution of course). And so, @maldives (how did they snare that tag?) has become my richest online source of leads for 'Best Of' candidates, not to mention my most frequented Maldive web site of late.
Actually, it is more than a website. Maldives.net.mv would also be a contender for the 'Best Integrated Web' distinction. They seamlessly and effectively use Twitter and Facebook to complement their web content. In fact, their Twitter stream is probably the best on the Maldives itself. It is smart not to simply mirror the same content across all three media, but instead tailor what is shown where and how it is shown.
The site at the heart of all this digital activity is a real star in its own right. There is not much advertising, just a discrete area to do bookings if interested and a top banner. The writing style is very current and very professional. None of the 'destination dross' that spins out of too many travel writers. Part of their secret is that the site is run and written by local Maldivians. So they have the inside track not to mention heartfelt affection on their subject. Still, sometimes material written by locals can sometimes get out of touch with what really interest the foreign visitors. But not at Maldives.net.mv where the stories and approach remain fresh and on the mark.