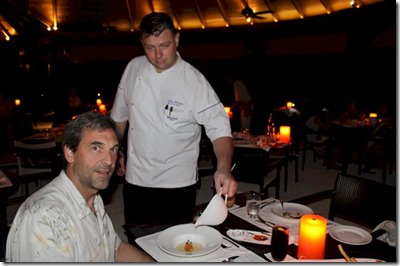 Soup always my first dish at a gourmet restaurant.
I shy away from the basic grilled, broiled and fried because I can do that at home. When I go out, I want some that takes more prep than I typically have time to invest. I favour the interesting casseroles and sauces, but the quintessence are the soups. Furthermore, their delectable broths are live savoury wines with heat instead of alcohol bringing a complex bouquet of flavours alive.
The tropical Maldives is really the setting for the piping hot stodgy side of the soup spectrum, but there are still plenty of possibilities especially among the chilled varieties. Lobster bisque and gazpacho are fairly common classics found in most of the 5-star resorts. But Dusit Thani not only had the most extensive array of soups on their menu, but they were all Michelin-star gourmet quality…
Iced Tomato Consommé
Veloute of White Bean
Seafood Bisque
Chilled Avocado Soup
Peking Duck Consommé.
In honour of Homemade Soup Day today, I am adding a "Soup" tag to the blog.