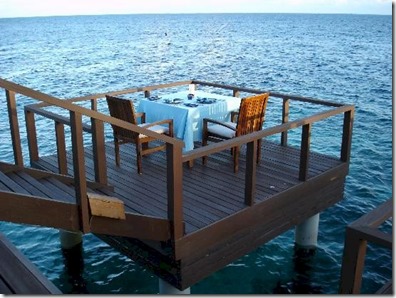 It's not just the aroma of the soup, it's the atmosphere. And one of my most enjoyable bowls was served at Coco Bodu Hithi's "Aqua" fusion restaurant because of its garnish of sea sounds and sights.
For starters (literally), it and the rest of the meal was served on our own private deck. Such a set up was something I mused about way back in 2011. It makes meal time a sort of microcosm of the whole tiny island experience – dining nestled in an intimate nook surrounded by water (and there were these particularly peculiar fish circling the platform which had us reaching for our fish guides, though we still couldn't figure out what they were).
Aqua has 360 degree water for 4 decks and then another 5 decks for 2 couples each with a 90 degree corner seat. An overwater restaurant tables are table stakes for a 5-star in the Maldives and most 4 stars have them too. But the broader platform designs mean that on a few early birds secure the coveted front row waterside seats.
The soup in question was an exquisite chilled fruit soup and seafood chowder. The Indonesian Chef Nyoman (possibly the only female head chef in the Maldives and certainly the first one I had met) had us try her special tuna Carpaccio which is prepared differently than you normally get it in Europe. But the highlight was Indonesian prawn dish, "Udanag Balado".
Aqua is also one of the fewer places which request smart casual dress. It's the first time I've had to wear long trousers to a meal in the Maldives, but it does lend an air of sophistication to the evening.
Private dining on high on the seas.