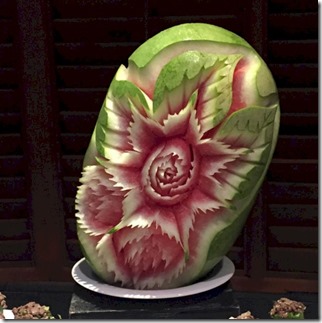 Happy Year of the Monkey! Chinese will be celebrating all the new year all around the world with feasts and parties. And exquisite decorations and artistry like Komandoo's carved watermelon. Particularly appropriate with its lucky red hue. Red is considered the most auspicious of colours as children are given New Year's gift in red envelopes, the streets are decorated with red lanterns, and diamond-shaped paper cut-outs are done with red paper.
It turns out there are also a bunch things the Chinese won't be doing, that are considered bad luck at this time, like taking medicine (first day), eating porridge, washing hair and using sharp objects.
The Chinese celebrate with all sorts of traditions from the well-known fireworks and dragon dances, to less familiar reunion dinners and new year paintings. To fit it all in, they have 16 days of celebrations. And some will slip away for a few days holiday. And the favourite destination in the world for the Chinese is the Maldives according to a recent survey – "Maldives tops list of Chinese tourists' favorite island spots". Another "Best in the World" for the Maldives…"Best in the World for Chinese Tourists".
恭喜发财 / 恭喜發財