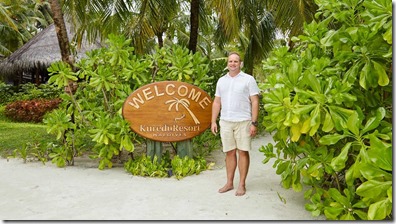 Patrick de Staercke's Maldives general management goes back nearly as far as Maldives Complete (2010). Lori and I might have stayed at more resorts than anyone, but he has managed more than anyone – 4 (Vilamendhoo, Komandoo, Hurawalhi, Kuredu). We first met Patrick in the earlier days of Maldives complete (see photo below) when Maldives Complete was just getting going, hardly anyone had heard of a blog and "social media" was still in the early adopter stage. He was one of the GMs who appreciated the site's comprehensiveness and welcomed us very warmly. Over dinner, we mused about all sorts of possibilities for guest offerings and resort enhancements. Many managers in the hospitality industry tend to hop around globe in their career, but Patrick has made the Maldives a second home with an unmatched tenure. We always catch up briefly at the World Travel Market trade event in London, but it is great that he has provided a Maldives exclusive interview to provide a snapshot of his professional life in paradise…
What was your first ever job?
Working in my student bar at colleague I was 16 years old in Seaford Colleague Sussex England. We were paid in beer just great.
What was your first job in hospitality?
When I was 18 I had a job in Lausanne as waiter and pot was for 6 months and loved it.
What has been your favourite sighting on a house reef?
I love octopus so cool how they change color .
What has been an idea (eg new dish, a new activity, a new offer) that completely failed?
Remote control boats do not do well in sea water who knew?
What tropical or Maldivian treat are you most addicted to?
Sipping cocktails in the sun and sending pictures pretending that this is what a GM does every day.
What treat from home do you most miss having easy access to?
My wife and child.
What are your favourite parts about opening a new resort versus taking on an established one (and what is your favourite part about taking on an established one)?
The favorite part is the end and the product you have produced gets the feedback we are getting now is just a wow. All that hard work sweat, team work, is paid off when the guests are blown away from the resort but also the service. Job well done.
If you had $1 million to add one single feature to Kuredu, what would it be?
I would have to invest in two areas as they are just as important upgrading guest rooms but also staff rooms as they are the reason to a resorts success.
What's one question I didn't ask that you either wish I asked or were surprised that I didn't ask (and what the answer)?


'Do you have what it takes to make a difference?' My proven track records show I will make a difference in enhancing both customer satisfaction and bottom line figures. What's the secret to my success? Well that's why I am so valued at CCR and have to keep that a secret?