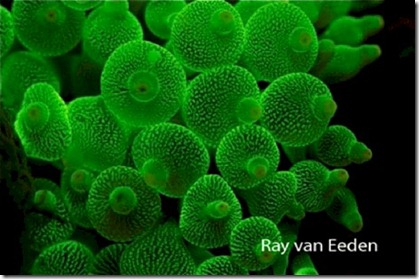 For an even closer investigation into reef life, state-of-the-art 'fluro-diving' has come to the Maldives.
Night dives shed a whole new light (or lack thereof) on the undersea world. Night dives never had much appeal to me because it seems to defeat the purpose of 'seeing' the underwater world. I always figured I could turn off all the lights in my bathroom, fill the tub and breathe through my snorkel and get pretty close to the same experience. But my more advanced diving buddy, Lori, assures me that night dives are so much more. A whole new world reveals itself in the dark hours many of which have their own tantilising illumination which you can only appreciate in the pitch black.
The Prodivers team at Kuredu, Komandoo and Vakarufalhi have taken this night time spectacle a step further by introducing 'Fluro-diving' to the Maldives…
"The Prodivers team, always on the lookout for new diving experiences, have launched yet another spectacular and unique underwater adventure! To boost our divers' enjoyment and appreciation of the reef, we've recently introduced fluoro-diving! After exploring the trippy phenomenon and discovering which sites around Kuredu are the best to be dived with the newly acquired NightSea fluoro-sets, the well-kept secret of fluorescence night diving is now available to our divers. Experienced divers, not afraid of spooky, low-light conditions, can now intensify their night diving and sneak peek at the reef to find crazy green bubble anemones, burning red feather stars, freaky blue shrimps, brightly red scorpion fish, green glowing brain and mushroom corals and glowing green lizard fish. Fluorescent diving has so far been revealed only by 6 dive centers in the world. The Prodivers team are overwhelmed by seeing the reef in a new light, and as there is so much more to discover – don't hesitate to join us!"
The whole concept smacks of underwater Crime Scene Investigation. Perhaps they should do an episode of 'CSI: Maldives'.