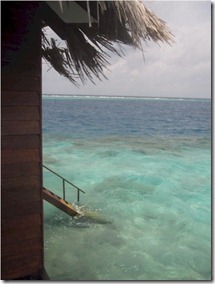 Livin' on the edge.
If that's for you, but instead of the edge of land above the water you want to be on the edge below the water (and if Dhevanafushi's Ocean Pearls are a bit to pricey or you don't want to be detached from the main island), then look at Club Rannalhi.
Most water villas situated on shallow table reef lagoons for obvious architectural reasons. While a handy little snorkel in the lagoon shallows can be fun, the big action tends to be in the deeper house reefs. And one of the big allures of the Maldives is having stunning reefs so conveniently nearby. Throw on your fins and mask and with a few splashes you are at the reef's edge. If you want the best of both worlds – a water villa and reef proximity – then the closest is Club Rannalhi's water bungalows which are 20 feet (7 metres) from villa #417 (see photo above).
We snorkelled the reef in that area, staying in a villa just a few doors down, and found it first class. Lots of colourful healthy coral and just about every (small) fish on the 'Fish Identification' card.
Close to the action!