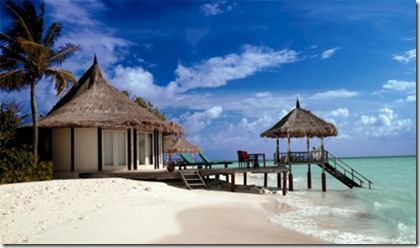 'Intimate' is one of the words most frequently used to describe the Maldives. Both in a romantic sense, but also in a geographical sense. The the islands' tiny size making for an intimacy in staying on them. Their low lying aspect giving visitors an intimate connection to the ocean. Their shallow lagoons and reefs lending a gentle intimacy to the ocean itself.
Water villas have come to characterise the intimate connection one has with the ocean during a Maldives stay, but if you want all of the proximity to the ocean of a water bungalow without actually being on a bungalow, then Banyan Tree Vabbinfaru has an option for you, reports Adrian Neville…
"No beach rooms in the Maldives are more on-the-beach than those of Banyan Tree Vabbinfaru. Don't expect privacy too."
You might ask, 'Why would you want something so close to the water without having a water villa?'…
Kids are not allowed in almost all water villas.
Water villas cost significantly more.
Don't step on sand going from water to door (okay, I'm reaching here).