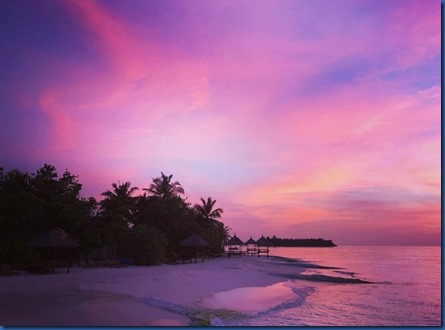 Banyan Tree Vabbinfaru and Angsana Ihuru holds a monthly event to raise awareness of energy conservation to reduce carbon footprint by completely shutting off all electrical lights on the resort for 12 hours:
"Banyan Tree Vabbinfaru and Angsana Ihuru launched a 12-hour lights-off event under the name 'Connect to Earth from Dusk till Dawn' on September 14. The monthly occurrence is scheduled for full moons in order to take advantage of natural luminescence while the two resorts switch off their lights from 1800 to 0600 hrs. Connect to Earth from Dusk Till Dawn is inspired by the Earth Hour Movement, an annual celebration marked by switching lights off for a one-hour period. 'By switching off the lights for one hour, we can make a substantial difference in the energy consumption and we can help reduce the effect of global warming', stated the General Manager of Banyan Tree Vabbinfaru and Angsana Ihuru, Hicham Najdi…During the event, dubbed 6to6, restaurants and bars will be candlelit and a special full moon in-villa dinner can be arranged for guests upon request. The Marine Lab Team will also organize an 'Under the Full Moon Night Snorkel' to provide a unique underwater experience to the guests."
The initiative is not just eco-friendly but imparts an extra romantic tone to the evening with candlelit areas and meals. Furthermore, turning off the lights in one of the few electrified places in that part of the ocean reduces light pollution making star gazing all the more dazzling.